Vol 6 No. 20 - February 8, 2006

Pelican Pete�s �
where everybody knows your name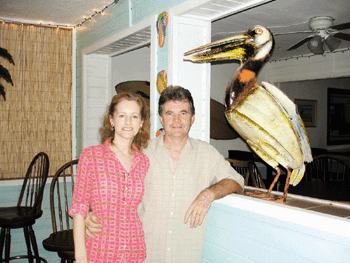 SUN PHOTO/LOUISE BOLGER
From left, Sylvia and Al Marnie opened Pelican Pete's in September.
By Louise Bolger
sun staff writer

Maybe I've watched too many episodes of "Cheers," but it seems I'm always looking for that local bar and grill where the atmosphere is friendly and everyone knows your name. Well. Pelican Pete's in Cortez may just be the place we've all been waiting for.

Sylvia and Al Marnie opened Pelican Pete's last September with the thought that good homemade food, entertainment and a friendly smile would attract a hometown crowd. So far their efforts have more than paid off.

The Marnie's and their two teenage children have lived on Anna Maria for 10 years. They owned and operated a motel for six and a half years, ultimately selling the property and going into semi-retirement mode. But Sylvia, a native of Great Britain and Al, a Canadian who lived in Great Britain, wanted to open a bar and grill with an English flair. They looked around for more than two years until they found the right location to purchase for their new business.

What they established at Pelican Pete's is a menu of simple, uncomplicated good quality food with an emphasis on seafood for both lunch and dinner. Some of their items include clam chowder, burgers, sandwiches, prime rib and seared tuna, but the menu item they're most proud of is authentic English fish and chips with the recipe straight out of Sylvia Marnie's mother's kitchen. There are also daily specials like beef pot pie made with Guinness Stout as well as homemade deserts. And to wash it all down is a large selection of English and Irish beer on tap.
Since both of the Marnie's had careers in the entertainment bu

siness, they naturally wanted to include nightly entertainment at their restaurant. Every night is a party at Pelican Pete's ranging from live music, to sing-a-longs, Karaoke and poker nights. They have redecorated in a light and bright tropical theme creating a safe comfortable gathering place for groups, couples and singles. And Sylvia and Al Marnie are always around with a bright smile and interesting conversation.

So if you've been searching for the perfect bar and grill to call home or just a good home cooked meal, give Pelican Pete's a try – just don't expect to see Norm at the bar.
<< Go back to Index February 08
About us | News | The Island | Subscription | SUN Store | Classified