Vol 7 No. 17 - January 17, 2007

Therapy and fitness under one roof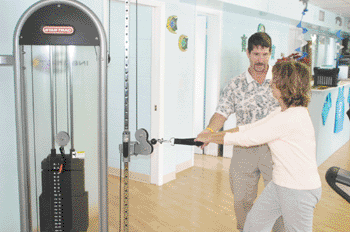 SUN PHOTO/TOM VAUGHT
Dave Rogerson, a certified physical therapy trainer, guides Gloria McClosky through her fitness program on one of the new machines at the Anna Maria facility.
By Tom Vaught
sun staff writer

Island Physical Therapy and Beach Fitness Center are now open in Anna Maria offering evaluation and treatment for injuries, rehabilitation from surgery and sports injuries and the latest machinery to keep you trim and toned.

Island Physical Therapy and Beach Fitness Center director David Rogerson, RPT, has more than 20 years of practice in this field with expertise in orthopedic, neurological and sports-specific injury rehabilitation.

"My goal is not only the rehabilitation of people from injuries and illnesses, but getting people set up on an exercise program to keep fit," he said. "We have seen a lot of people come in who had procedures up north and were able to continue their recovery and rehabilitation here."

In addition, Rogerson has a massage therapist on staff.

If fitness is what you need, there are two trainers to help you get set up on a program. Rogerson also screens everyone to make sure their training doesn't complicate and existing problem.

"I might send them to their doctor first to make him aware of what they are doing," he said. "My job is to educate using machinery in moderation."

The center offers daily, weekly, monthly and annual rates to accommodate visitors as well as full-time and seasonal residents.

Its hours are 6:30 a.m. to 7 p.m., Monday through Friday, with reduced hours on weekends. For more information, drop in at 9908 Gulf Drive in the old Anna Maria Post Office building or call 778-0120.