Vol 7 No. 17 - January 17, 2007
Center basketball season opens at King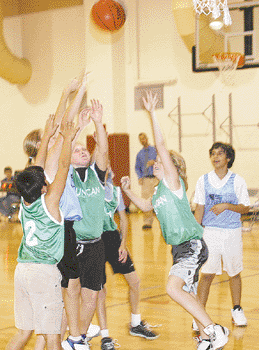 Players from Duncan Real Estate and Air & Energy battle it out for a rebound.
A&E won 38-16.
SUN PHOTO/MIKE FIELD
The Island Community Center may not have its own gymnasium yet, but that hasn't slowed down this season's basketball competition at all.

Two weeks into the year and the early leaders already appear to be establishing claims for the top spots.

Rotten Ralph's has jumped out to a 2-0 record in the Premier Division, while in Division I, A Paradise and Anna Maria Oyster Bar share first place with 1-0 records.

Division II finds Dips and Air & Energy with 1-0 records at the top, and Ooh La La and Kumon share the Division III lead at 2-0.

Jan. 8
Division III
Ooh La La 7 - Jessie's 6
Ooh La La held off a fourth-quarter comeback bid by Jessie's to earn a 7-6 victory. Josh Zawistoski had five points and an amazing 12 steals for the winners. Samantha Purnell scored all Jessie's points while pulling down 13 rebounds to go with two blocks and two steals.

Division I
Danziger's Destroyers 43 - Connect Cycles 30
Matt Bauer dominated for Danziger's, hauling in 28 rebounds to go with 19 points, five assists and two steals. Tommy Price was high scorer for Connect with 16 points.

Premier
Rotten Ralph's 37 - Island Real Estate 31
Garrett Secor and Jacob Stebbins led their team with 17 and 12 points respectively in holding off a stubborn IRE team. Al Barrett had nine and Zach Schield scored eight and grabbed 17 rebounds in the loss.

Jan. 9
Division II
Air & Energy 38 - Duncan Real Estate 16
Dominant play by Becca Butler at both ends of the court was the story of this game. Butler had a double-double with 12 boards and 17 points while also contributing two steals, one assist and one blocked shot. Kalif Mora and Josh Schmidt each had eight for Duncan.

Dips Ice Cream 21 - Re/Max 15
Justin Gargett and Zach Guerin paced the winners in a game that was close until the very end. Gargett sank 10 points to go with six rebounds while Guerin had six points. Max Miller was the big man on the boards for Re/Max with seven, while Travis Belsito scored six.

Division I
A. Paradise 37 - Connect Cycles 23
Daniel Janisch scored a double-double with 13 points and 12 rebounds for the winners. Tommy Price knocked down 11 points and grabbed five boards for the Cyclers.

Jan. 10
Division III
Kumon 25 - Greg Ross Dev. 4
Neil Carper picked up where he left off last year by hitting eight shots from the floor while grabbing three rebounds and getting four steals and one assist in the win. Lexi Moore and Bruce Oliver each scored two for Greg Ross.

Division II
Re/Max 26 - Duncan 11
Re/Max used a solid first quarter to jump on Duncan early and never looked back. Jacob Baird and Travis Belsito each hit for 10 points, while Kalif Mora scored six for Duncan and Courtney Schmidt pulled down five boards.

Division I
Oyster Bar 35 - Danziger's 32
Oyster Bar outscored Danziger's six to three in overtime to take an exciting game. Matt Bauer turned in his second double-double of the season with 20 points and 21 rebounds in the loss. Ryan Schroeder had 17 points and eight boards and Brett Rocklein hit for 12 points, five rebounds and five assists for the winners.

Jan. 11
Division III
Kumon 18 - Publix 16
Another overtime game between two evenly matched teams saw Kumon come away with its second victory 18-16. Neil Carper scored the game-winner in OT for two of his 10 points. Burke McCampbell-Hill hit four buckets for eight points for Publix, while Cameron Brauner and Joey Salinas added four each.

Premier
Island Real Estate 49 - West Coast Air 40
IRE evened up its record at 1-1 with this win over West Coast Air. The winners put three players into double figures, with Zach Schield getting a double-double of 11 points and 11 rebounds. Al Barrett added 18 and Jordan Graeff scored 12 for IRE. Chad Reed had a double-double of his own with 15 points and 10 boards.