Vol 7 No. 17 - January 17, 2007

Cedars East combines the best of Florida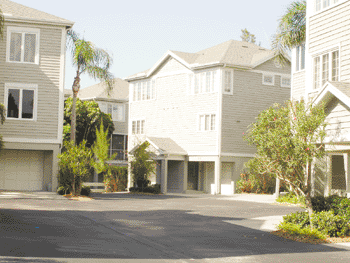 SUN PHOTO/LOUISE BOLGER
Cedars East offers tennis courts, an Olympic-sized swimming pool, beach access and a fishing pier.


By Louise Bolger
sun staff writer

It's truly a privilege to live in one of the most beautiful beach locations in all of Florida. Because of that we tend to concentrate on the plentiful beachfront communities on Anna Maria and Longboat Key when making suggestions to friends and relatives who are interested in visiting or relocating, sometimes overlooking condominiums with lots to offer just off the beach. Cedars East on Gulf of Mexico Drive in Longboat Key is one such complex combining the best of what Florida has to offer.

Cedars East is in the Manatee County section of Longboat Key on Gulf of Mexico Drive at Companion Way, backing up to Sarasota Bay. Cedars East calls itself a tennis club, and there is good reason. The community offers 10 har-tru tennis courts with a tennis pro available for residents and renters. In addition to tennis, Cedars East has an Olympic-sized heated pool, beach access across Gulf of Mexico Drive and a fishing pier.

The condominium units are actually tri-level townhouses with garages and large storage areas on the first level; an open living room, dining area, galley kitchen, screened liana plus half bath on the second level, and a master bedroom with bath and guest room; and an additional full bathroom on the third level. Built in 1990, the townhouses have approximately 1,500 square feet of living space, some with water views of Sarasota Bay.

Cedars East has a strong and active rental program. Rentals are permitted on a weekly basis and are popular with international tourists. Rental fees vary but are between $700 and $1,500 weekly, depending on the season.

Townhouses sell anywhere between the low $400,000s and mid $500,000s, based on location, condition and rental history. These are attractive numbers for condos on Longboat Key with a good rental history, and there are about a dozen currently for sale. Sales have been slow this year reflecting the adjustment in the real estate market that the entire country is feeling.

Although Cedars East is primarily a rental, investment and part time residential community, there are some full time residents.

Cedars East is just a little different than most other condominium communities on both Anna Maria and Longboat Key. It may not be for everyone, but what it does offer in the way of a spacious floor plan, location and tennis programs will certainly be of interest to many buyers and investors. Keep it in mind if you're looking for an investment before the market makes its final adjustment and prices start to go up again, it's also a great spot to stash your winter visitors, convenient but not too close.