Vol 7 No. 25 -March 14, 2007

Get everything you want at Hurricane Liquors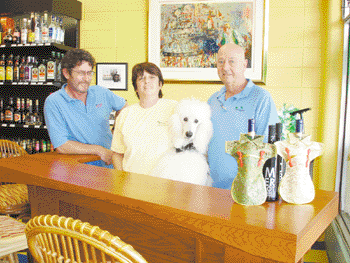 SUN PHOTO/LOUISE BOLGER
Manager Tim Reidy and owners Margaret and Paul Hoffman,along with Alfie the French poodle, greet customers.
By Louise Bolger
sun staff writer

Why patronize just an ordinary liquor store, when you can visit one where a standard French poodle greets you at the door and where you can enjoy live piano music and browse through a mini art gallery? If this sounds like what shopping should be about, a visit to the new Hurricane Liquors in Holmes Beach should be on your agenda.
Margaret and Paul Hoffman moved to Florida from Queens, New York, in 1990 to manage Brady's restaurant in Bradenton. Four years ago they purchased the popular Hurricane Hank's Pub in Holmes Beach, and when the space next door became available, they decided that the perfect compliment to a local pub would be a local liquor store.
In mid-December they opened Hurricane Liquors and with the help of their manager Tim Reidy, they have already turned it into "not just your ordinary liquor store."
Tim Reidy, born in Ireland just south of Dublin, is anxious and proud to show you around Hurricane Liquor's bright and clean 1,400 square feet of space, with fully stocked shelves, coolers, wine tasting bar and a piano.
The digital player piano is one of Margaret Hoffman's favorite things. She loves the sound of live music greeting her customers, especially during Friday night wine tastings, where people will frequently overflow from the pub next door.
The Hoffmans' and Reidy's goal is to have everything possible in stock no matter who asks for a special item. Based on their inventory, they are well on their way. The vodka selection alone fills five shelves in the store with flavors ranging from mint, rasberry, Dutch chocolate, citron, espresso to the more exotic pomegranate.
They even have handmade Tito's vodka and Idaho Potato vodka. Tim Reidy says the flavored vodka market is changing practically every day and that Hurricane Liquors is shortly planning a vodka tasting to introduce flavored vodkas to the community.
Naturally Hurricane Liquors carries every other type of liquor and a vast array of wines ranging from $6.99 a bottle to $100 a bottle, and will special order anything you can't find in the store.
They keep world class red wines in a temperature controlled environment, and their collection of world class beers is also temperature controlled.
Hurricane Liquors specializes in unique and imported beers including Belgian beer. They carry British ales and micro beers in addition to domestic brands and are expanding their collection weekly. Soon they will also be stocking gifts and glasses to accompany their other products.
Tim Reidy says that Hurricane Liquors is there to serve the sophisticated pallet and he is there to provide service and attention to his customers. Stop in and see everyone at Hurricane Liquors, especially Alfie, the four legged blond with the bow tie. Where else can buying a bottle of wine turn into a social event?
Hurricane Liquors
534 4 Gulf Drive, Holmes Beach
779-BEER
Monday through Saturday
10 a.m. to 9 p.m.
Sunday
Noon to 5 p.m.