Vol 7 No. 30 - April 18, 2007

Palma Sola Early Learning Academy offers balanced approach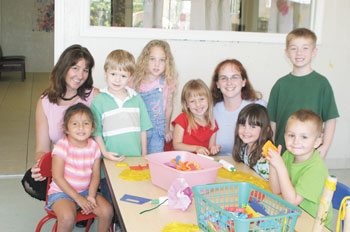 SUN PHOTO/TOM VAUGHT
Palma Sola Early Learning Center Executive Director Cindy Thompson (left) with Becky Tripp (fourth from right) and her "begindergarten" class.
By Tom Vaught
sun staff writer
BRADENTON - Parents today have a lot of options for their pre-school aged children.
They can keep them at home to be nurtured by a parent or put them into day care where they experience socialization and following a routine or they might give them a heads-up on the learning process.
Palma Sola Early Learning Academy, located at 7315 First Ave. W, behind the post office on 75th Street in northwest Bradenton, raises the bar for that third option.
When owners Tess and Kirk Zeppi decided to open a learning academy, they decided it would bring a balanced approach to the children's education. Kirk Zeppi ran children's psychiatric hospitals and they also own Family Creations Adoption Agency.
"We wanted to be able to build these children as they approach school age," he said. "We offer a safe, clean place to learn and grow with this curriculum.
They started with an innovative approach and recently brought in Cindy Thompson, who formerly owned The Playroom in Holmes Beach, as executive director. She overhauled the program, taking it to the next level.
"We took the best of everything with a focus on education, socialization, physical growth and emotional development," Thompson said, "When these kids enter kindergarten or first grade, they will be way ahead of the others."
Thompson said several of the students in their "begindergarten" level are already reading on a first grade level. "We use the kindergarten Sunshine Learning Standards as benchmarks for those students," she explained.
Indeed, going to Palma Sola Early Learning Academy is like attending public school in that they both keep the same hours, 8:30 a.m. to 2:30 p.m., although Palma Sola offers an after-school program for working parents. Thompson said, however, that 80 percent of the parents pick up their kids at 2:30 p.m.
The campus is spacious enough to offer several large classrooms, a kitchen where the food served is organic and ample indoor and outdoor play areas. There is an art room, where kids of all ages let their creative and imaginative sides nourish. There is a garden out back, where the kids learn about growing
"We've already had a salad from the garden," Thompson said. "It's all organic."
Thompson has a background rich in child development and care. Before opening The Playroom, she was educated in both and since then she has gotten her child care director credential. She is also a director of the Children's Services Advisory Board. She has spent a lot of time getting the right staff for the learning academy.
"We have some unbelievable teachers," she said. "We have a creative curriculum that offers a Montessori learning style. We also offer Brain Gym, which teaches how to exercise your brain through physical movement."
If you're looking for more than a babysitter or a pre-school that's just a short drive over the bridge from the Island, call Cindy Thompson at Palma Sola Early Learning Academy, 795-0788.
Palma Sola Early Learning Academy
Cindy Thompson, executive director
7315 First Ave. W., Bradenton
Telephone: (941) 795-0788
e-mail: psela@verizon.net
Web: www.palmasolaacademy.com