Vol 7 No. 38 - June 13, 2007
Blood drive a record-breaker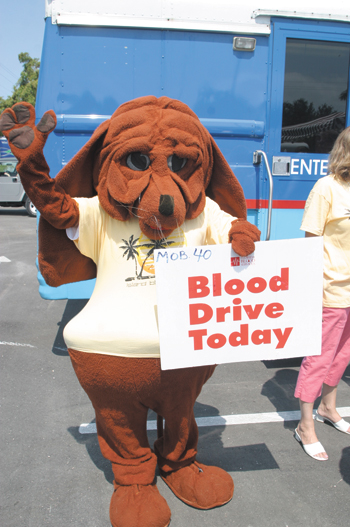 SUN PHOTO/TOM VAUGHT
A mascot tried to "fetch" donors at the Chamber of Commerce location.
By Tom Vaught
sun staff writer
Maybe it was the gorgeous weather. Maybe it was the addition of a fifth charity. Whatever it was, this year's two-day Island Blood Drive brought in 295 donors, far exceeding the record 242 donors last year.

The donations will help save lives throughout the area, but there was another factor at work. An anonymous benefactor promised $100 per blood donation to one or a combination of five non-profit agencies, as chosen by the blood donors.

According to Wanda Read-Burke, community relations director for Florida Blood Services, 334 people actually volunteered to give blood but because some of them were not able due to medications or other reasons, 295 actually gave.

"We are just dumbfounded," she said. "We always get such great participation from the charities and this year, we added the Rotary Club and they were responsible for even more donors."

Of the five non-profits who benefited, Wildlife Education was the big winner with $13,332 in donations. The Anna Maria Island Community Center brought in the second most at $4,732, followed by the Anna Maria Island Privateers with $4,333, West Manatee Fire and Rescue Volunteers with $3,849 and The Rotary Club of Anna Maria Island at $3,250. Burke said that because some people divided their donations three ways, which was rounded off to each non-profit, the total amount given to the charities was $29,496 instead of $29,500.

The Community Center pledged to donate $25 of every $100 from a blood donor to the families of former employee Kathy Joyce and Holmes Beach Police officer Pete Lannon who both died from cancer in the past three weeks. Forty donors asked that their full $100 go to the Center, according to Center Business Manager Sandee Pruett, which means that each family will get $500.

There were crowds both days at the three bloodmobiles posted at the BeachHouse restaurant, Publix and the Anna Maria Island Chamber of Commerce. The Chamber of Commerce erected a tent to shade those waiting their turn and the crowds at the other two locations found shade next to the BeachHouse and Publix.

"There was fun in the bloodmobiles," Read-Burke said. "There is always a special feeling on the Island when people participate and this years was no exception."

Other sponsors included The Anna Maria Island Sun, The Bradenton Herald, Tropicana, Pepsi, Domino's Pizza for feeding the volunteers and Meals on Wheels Plus for providing cookies.