Vol 7 No. 40 - June 27, 2007
Titans take two, share division lead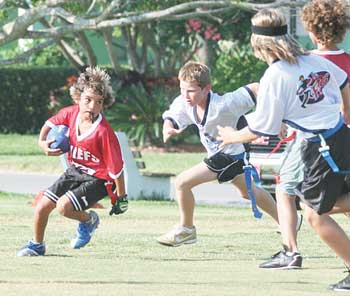 SUN PHOTO/MIKE FIELD
The Chiefs' Blaine Jenefsky is pursued by the Titans' Adam Hart in the Island's NFL Flag Football league.
The Buccaneers remained undefeated and the Titans climbed into a tie for first in the Community Center's NFL Flag Football Youth and Junior Divisions last week.
The Bucs, 5-0, continued their unbeaten streak by barely edging out the Panthers 40-34 and then taking a forfeit game when the Raiders could not field a team. The Titans, meanwhile, started the week with a 35-6 win over the previously undefeated Texans and followed it up with a 28-19 victory over the Chiefs. Both the Titans and Texans stand at 3-2 as of Sunday.
Friday, June 22
Titans 28 - Chiefs 19
Adam Hart scored twice and teammates Connor Field and Josh Zavistoski added a TD and extra point each and played a stifling defense for the Titans. Ben Connors, Blaine Jenefsky and Seth Walter each scored a touchdown for the Chiefs.
Buccaneers 40 - Panthers 34
The Panthers came close to pulling off the upset but fell just short in this high-scoring contest. Daniel Landesburg led the way for the Bucs with three scores, while Kyle Parsons and Rania Lardas had TDs and Tommy Price scored on an interception. For the Panthers, Brandon Gengler, Nicole Botero, Julian Botero and Blake Rivers all found their way into the end zone.
Wednesday, June 20
Titans 35 - Texans 6
Josh Zavistoski scored three times and Connor Field twice as the Titans' running game and quarterback Morgan Grieg's strong arm and shut-down defense broke this one wide open early. Devan Salati scored once for the Texans, who were without their star player, Joel Hart.
Monday, June 18
Chiefs 40 - Texans 8
It was all chiefs in this game, as Zach Facheris, Blaine Jenefsky and Ben Connors all scored twice to put it away. Gavin Sentman scored one TD and Jake Parsons a safety for the Texans.