Vol 8 No. 8 - November 14, 2007
Firefighters hoping to avoid bridge disaster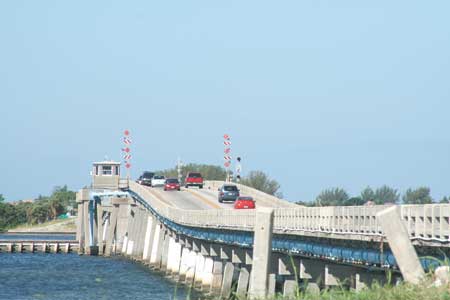 SUN FILE PHOTO
By Tom Vaught
sun staff writer
HOLMES BEACH – When the Florida Department of Transportation (FDOT) closes the Anna Maria Island for its rehabilitation project next October, West Manatee Fire & Rescue wants to be as prepared as possible.
Fire Chief Andy Price said they are now waiting for information from FDOT regarding its projections on traffic patterns and tie-ups, especially at the only other bridge to the mainland on Cortez Road.
West Manatee has one station on the Island, plus a historic station in Bradenton Beach currently used by the volunteers to house its classic fire truck and other equipment.
Price said their two areas of concern will be fire protection and handling medical emergencies.
"We know we'll have to add at least one fire truck and ambulance to the Island when they close the bridge," he said.
Price said they will start training for the eventual closure soon, and they will be changing their emphasis on fire protection.
"When we have a structure fire, we want to get to it and work as hard as we can to prevent it from becoming a big fire," he said. "Bringing more trucks onto the Island is risky because of the possibility of traffic tie-ups on Cortez."
As for medical response, Price said they will have some alternatives.
"We have helicopters available, but that's $10,000 per transport," he said. "There's always the possibility of transporting people over water. There was one person at that meeting (at St. Bernard) who was talking about a water taxi. Also, we could use our fire boat."
Another problem he has is getting his employees on and off the Island.
"All of my staff lives on the mainland," he said. "One thing we might consider is changing our shift change times. The men work 24-hour shifts and they change at 7:30 a.m. We'll see if we can change that so they don't get caught in traffic on Cortez."
Price said whatever changes the bridge closure forces upon them, they will be prepared. He said they would brainstorm and come up with as many scenarios as possible and how to respond to them. Then, he said, they would practice that response.
"I just hope nobody will be affected by the closure in a situation where we could have done better," he said. "I want us to be prepared for everything