Vol 8 No. 9 - November 21, 2007
Pure Country offers classy Western wear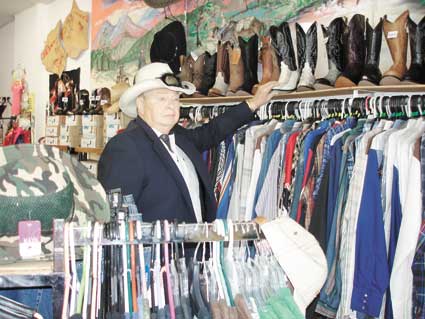 SUN PHOTO/LOUISE BOLGER
Norm Heard shows some of the boots available at Pure Country.
By Louise Bolger
sun staff writer
You might not think the west coast of Florida resembles the old West at least not until you visit Pure Country in the Mt. Vernon Shopping Center on Cortez Road, once inside you'll quickly be transported to the American west with a Florida touch.
Norm Heard came out of semi retirement a year ago to purchase the well established Pure Country. Originally from the Virginia-Washington. D.C. area, where he was a union representative, Heard retired to Florida to fish and hunt. Since he always loved anything with a country western theme, becoming the proprietor of Pure Country was a perfect fit.
The shop which has been in business for 15 years, carries what he likes to call classy Western wear, everything from Native American art and jewelry to hand painted jackets and shirts. The walls are covered with murals representing the American West painted by Jan Marsicoy who also hand paints the shirts and jackets. You can outfit yourself from head to toe starting with embellished cowboy hats right down to moccasins and boots. And, if Western-style boots are your thing, Pure Country carries a large supply of Laredo, Dingo and Dan Post boots in a variety of styles and colors for adults and children. My favorite were the pink ones a must for Florida cowgirls.
The handmade Indian jewelry and belt buckles, many of which are created with turquoise stones, are authentic. Norm Heard purchases them from Arizona Indians like Brown Eagle, who make annual trips to Florida with their one-of-a kind designs. And just to make things a little interesting Pure Country also has fresh fruits and vegetables daily outside.
During the month of December, Pure Country will be discounting its inventory 20 to 30 percent, with a one day 50 percent off sale. Dates will be advertised, or you can call the shop for specifics.
If you're looking for something a little different for holiday gift giving or want a new look to your wardrobe, walk on over to Pure Country and get into a Western state of mind. Their boots are always made for walking.
Pure Country
Mt. Vernon Plaza
9616 Cortez Road W. • Bradenton
(941) 792-1355
9 a.m. - 5 p.m., Monday - Saturday
Open Sundays in season
(MasterCard, Visa & Discover accepted)