Vol 8 No. 15 - January 2, 2008
Via Italia is welcoming and affordable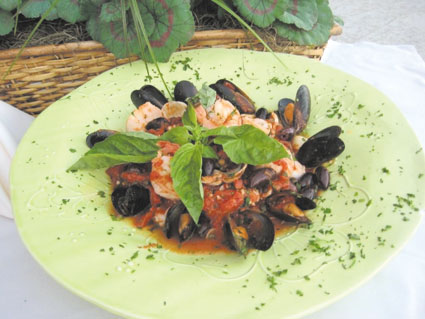 SUN PHOTO/LIZA MORROW
By Liza Morrow
sun staff writer
On our Gulf coast, where so many restaurateurs vie showily to position themselves at the water's edge or at least with a view of the water, Via Italia is refreshingly content with a lower, but just as worthy, patch of ground on Manatee Avenue. And Via Italia has left the ornate interior design, intricate fusion food menus and other high-end tricks to others. What it does instead is hit the middle and hit it hard, using a simple, practical formula – a modestly stylish environment, subtly sophisticated food in large portions, perfectly welcoming service and prices that are affordable. If you have been there, you have seen and appreciated just how appealingly this formula can work. You probably have been back three or four times. Via Italia attracts satisfied regulars, not bewildered foodies. It feels instantly familiar, abundantly friendly and immediately comfortable. From the moment you walk through the door and see all the happy, chatty people seated in the small dining room or around the handsome bar in the back, you find yourself unwinding.
But Via Italia is still an ambitious restaurant, as a glance at the menu reveals right away. That menu is divided into nine categories, not counting dessert or the tutorial on the Italian language, with scores of dishes small and large. It offers cheese appetizers, soups, vegetable antipasti, salads, pasta, stuffed pasta, risotto, meat entrees, fish entrees and side dishes.
All are worthy of loyalty but truth be told, we would go back if only for another taste of the special of the day – Cacciucco. This represents the best of Italian cooking, nothing fancy or extravagant, but a well composed and balanced dish. Subtle, sheer tomato sauce, ultra-fresh fish, whole cloves of sweet garlic and sweet basil bring robust notes to the dish already outstanding with its generosity of carefully prepared calamari, scallops, clams, shrimp and mussels on a tangle of angel hair pasta … a lusty success. Cacciucco (cah-CHOO-koh) is an Italian spin on bouillabaisse and is wonderful when impeccably cooked. A warming solution to the chill of January, which just happens to be -— who knew? — National Soup Month. Traditionally, this traditional fish stew from Livorno, has five kinds of seafood, one for each "c" in the name of the dish. Via Italia uses calamari, mussels, shrimp, scallops, clams and a firm white fish called basa. You should feel free to use whatever fresh fish happens to be swimming in your fish market.
Via Italia Ristorante Italia
6777 Manatee Ave. W. • Bradenton
(941) 792-5332
Lunch: 11:30 a.m. to 2 p.m.
Monday through Friday
Dinner: 4:30 to 9:30 p.m.
Monday through Saturday
Via Italia's Cacciucco
Ingredients
• 3 Tbs. virgin olive oil
• Garlic cloves to taste
• 1 lb. calamari, cleaned, cut into 1/2-inch rings
• 12 mussels, beards removed
• 8 clams
• 1 c. dry white wine
• 1 c. or more of light marinara sauce
• Chopped fresh basil
• 8 oz. filet of basa or other firm white fish
• 4 sea scallops
• 8 shrimp (21-26 size), peeled and deveined
• A can of Italian plum tomatoes (Via Italia prefers Saporita tomatoes)
• A handful each of pitted calamata olives and capers to taste
• Salt and freshly ground black pepper
Instructions
Heat the oil in a large soup pot over medium heat, add the garlic and sauté until lightly browned. Add the calamari and sauté for 1 minute, then add the mussels, clams, white wine, tomato sauce, canned tomatoes, basil and 1/3 c. water. Let the stew simmer slowly until the shellfish have opened and the tomato sauce has cooked into the wine. Add the basa or fish, and simmer for 4 minutes. Add the scallops, cook for 1 minute, and then add the shrimp, olives and capers. Once the shrimp have turned pink and firm, remove the stew from the stove and gently transfer to a large tureen. To serve, arrange a pile of angel hair pasta in the bottom of each bowl and slowly pour the stew, trying not to break the pieces of fish. Garnish with more fresh basil, drizzle with olive oil and serve with garlic bread.