Vol 8 No. 15 - January 2, 2008
Shooting victim back on Island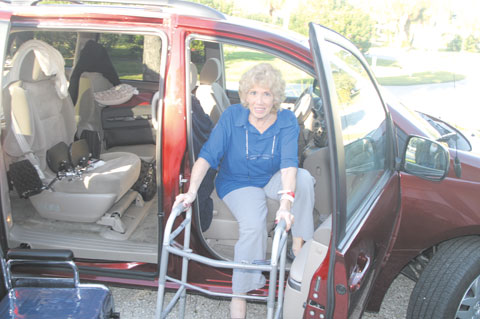 SUN PHOTO/TOM VAUGHT
Sue Normand prepares to move into a ground level house for a while as she recovers from a bullet wound. She still needs a place to stay after January.
By Tom Vaught
sun staff writer
HOLMES BEACH – The victim of an apparent random shooting is back on the Island, although not back home, after spending more than three weeks in hospitals.
Sue Normand and her daughter, Lisa, arrived in a house that she would stay in until this week, at which time she will move to another house for a month. Darcie Duncan, owner of Duncan Real Estate, arranged the houses for Normand to use while she recovers and looks into putting an elevator or lift into her elevated house. She is unable to climb stairs because of a bullet that shattered her pelvis and went into her intestine and she may be on a walker for as long as a year.
The question is where will she live after January? Manatee County Commissioner Carol Whitmore is working with Duncan to secure housing for Normand. If anybody knows of a ground-level house available on the Island on Feb. 1, they can call Whitmore at 730-2302 or Tom Vaught at The Sun, 778-3986.
Normand still needs help financially. She said she wants to put an elevator in her house, which will cost a lot of money. Her son, Stephen, who is running her business, Island Mail and More, set up a fund for her on the Internet. To donate, go to www.supportsue.com. You can use your PayPal account. To donate through the Anna Maria Island Chamber of Commerce account, send a check made out to the Bay of Dreams and put Sue Normand's name on the memo line.
Normand was shot after she opened her business on Wednesday, Dec. 5. She identified the shooter as Mark Koenigs, who owns two rental properties in Bradenton Beach and a house in east Manatee County. Koenigs has so far refused to talk with authorities. He will be arraigned Jan. 18, at 9 a.m. in District Judge Diana Moreland's courtroom. Public Defender Peter Belmont has been assigned to the case. Koenigs is charged with attempted first-degree murder, among other charges, and remains in custody in lieu of $2.2 million bail.