Vol 8 No. 23 - February 27, 2008
Karly Carlson: Picture perfect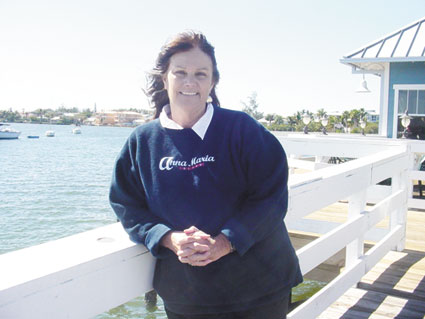 SUN PHOTO/LOUISE BOLGER
Karly Carlson can make your wedding-day dreams come ture.
By Louise Bolger
sun staff writer
It seems like almost overnight Anna Maria Island and destination weddings have become synonymous. The brides and grooms you see running around the Island all have the same dream, to have their special day their way, and photographer Karly Carlson's mission is to make that dream come true.
Karly Carlson has been a professional photographer for over 25 years, starting in her native Madison, Wis. The day Carlson and I spoke happened to be the Wisconsin Democratic Primary, which was especially fitting since before moving to Florida in 1988, she was a capital photographer in Wisconsin and the media director for the Senate Democratic Caucus. Her photography business has certainly changed from those days and now reflects not only her relaxed lifestyle but the relaxed atmosphere of Anna Maria Island and the surrounding area.
Carlson loves shooting weddings and has designed an alternative to formal studio photographs that compliments the casual weddings currently in vogue both on and off the beach. Typically she shoots between 200 and 300 digital photos of a wedding. Within 24 hours she has them edited, recorded on a CD and has prepared an album containing 50, 4 x 6 prints. All of this is delivered to the happy couple or their family, frequently before they even leave the area. In addition to destination weddings, she has photographed weddings for many local full-time residents and comfortably photographs beach, church, garden and yacht club weddings.
She has been doing a lot of family portraits for both residents and visitors as well as senior class photos that can be either casual or traditional capturing the subject's personality. She also turns around these photos in 24 hours organized in conventional albums rather than a digital format.
Carlson is involved with the Anna Maria Wedding Festival, but most of her business has grown by word of mouth within families and from friend to friend who find her laid-back style easy to work with. Sometimes she finds herself at weddings with family members and guests she has previously photographed or covering the wedding of one of the restaurant servers who have seen her work at other weddings. Her pricing is very competitive and is based on the event rather than the number of hours it takes.
In addition to photography, Carlson also has a thriving framing business. She will come to your home with frame and mat samples and recommend the perfect combination to showcase your picture and blend with your home's décor. And if hanging the finished product is a challenge, she will come back and do it for you.
Carlson gave up her galoshes and mittens a long time ago and has embraced the Florida lifestyle she photographs. Her motto is, "Photography my way," making her the perfect person to record the important moments of your life your way.
Karly Carlson Photography & Custom Framing
941-778-4365
By appointment
www.KarlyCarlson.com