Vol 8 No. 23 - February 27, 2008
Luana Isles – one of Anna Maria's great spots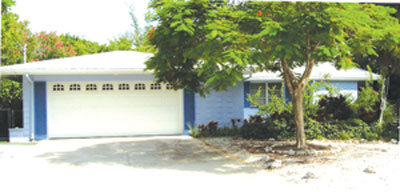 PHOTO PROVIDED BY BETSY HILLS REAL ESTATE
This two bedroom, two bath home on a canal is one of the properties currently for sale in Anna Maria's Luana Isles.
By Louise Bolger
sun staff writer
For a carefree island, Anna Maria has been dealing with a lot of stress for the past couple of years. Situations that we never thought we would see are occurring every day, giving our little Island the real estate blues. In spite of this, the Island is still a thriving community with beautiful and desirable properties, and Luana Isles in the city of Anna Maria embodies island living at its best.
The neighborhood of Luana Isles is located on Anna Maria's north end either on some or part of the following streets: Gladiolus, Hibiscus, Crescent, Pelican, Gull, Tern, Poinsettia, Holly, Iris and Jacaranda. Within walking distance of Bean Point, the city pier and Pine Avenue, Luana Isles is one of Anna Maria's great and convenient spots.
The single family homes were built anywhere from the early to mid-1960s and vary in size and style. Some of Luana Isles has water access to Tampa Bay from charming Lake LaVista. Many of the homes bordering Lake LaVista have boat docks that will accommodate small to mid-size power boats that are able to fit under the bridge to the bay.
In 2007, there were four recorded sales in Luana Isles. Gladiolus Street had a sale on the water for $630,000, Gull Drive had two sales both on the water, one at $565,000 and the other at $532,500, and Iris Street closed a home on the water for $841,000. Currently there are several properties for sale, ranging from $599,000 to $795,000, and all on the water.
In July of 2002, when I first profiled Luana Isles, the properties were being listed between $800,000 and $900,000 on the water. The first half of 2002 only had one sale of a canal home closing at $535,000, and in 2001, two canal homes sold for $468,500 and $650,000. It's not too surprising to see 2001 and 2002 numbers very similar to the 2007 and 2008 market thus far.
If you're down with the real estate blues, a drive through Luana Isles will chase the blues away. After all, in Hawaiian, Luana Isles means "carefree island," and that's the real reason we're all here.