Cortez Cafe is cookin'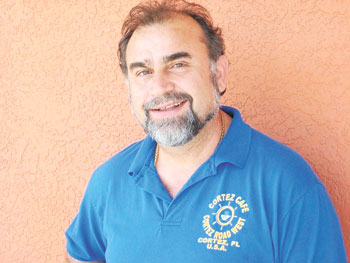 SUN PHOTO/LIZA MORROW
Sam Varelis, owner of the Cortez Café.
To call Cortez Café a restaurant would be an understatement. It is a café, a restaurant, but it's also a diner. And a coffeehouse. And a place that many people consider a morning ritual. In a little strip mall in the Cortez Road neighborhood of Cortez fishing village, it serves bountiful breakfasts and lunches of the traditional kind. This is the oldest section of Bradenton and these may well be the best breakfasts for miles.
Certainly the readers of The Sun think so as it has been voted top breakfast spot in 2007 and 2008. It also has the reputation as the least expensive. This is a place where waffles are homemade, where instant grits and quick grits find no welcome. Fried eggs are gentled to perfection, with the yolks brilliantly glossy and just slightly set and none of those dry, disagreeably frazzled edges on the whites. Four egg omelets are fluffy and stuffed with fresh, crisp veggies. The biscuits and sausage gravy are homemade, and the coffee is hot, strong and refills come almost simultaneously. No skim milk caramel macchiatos here!
At the Cortez Café in other words, breakfast is not an afterthought. It is the meal and it is cooked with care. Cortez café occupies two smallish rooms with a counter in the middle. With a red neon open sign, big sparkling-clean picture windows, green vinyl banquettes lining the perimeters, walls full of rainbow-colored fish, geckos, mermaids, dolphins and large round family style tables scattered about so everyone can find a place to feel comfortable.
Walking inside to the clatter of dishes being served or cleared, the chatter of families, friends and neighbors, we're greeted by the owner, Sam Varelis, dressed in a bright blue polo shirt and jeans. Hugging the old-timers, kissing the children and welcoming the new-comers with a bright smile he points to a white board behind him.
"Specials are up there," he told me, "but if you're craving something you don't see, just let me know and I'll try to make it. Take any seat and make yourself at home."
Varelis was born on the Greek island of Corfu. At the age of 15, the former high-school soccer star left home with dreams of discovering the world. He sailed on Greek tankers for 5 years until jumping ship in Canada, where he hitch-hiked on trains across the country to find his uncle in Toronto. A few years later, Varelis was still filled with wanderlust and had itchy feet. His uncle had speculated in property in Bradenton and suggested that Varelis check out the beauty of America.
On this advice and with a few names of family friends in his pocket, he headed south. Settling as a cook at a local pizza joint on Cortez Road he found the real beauty of America in a tall, pony tailed, pretty waitress named Debi. With flip-flops and a tie-dyed T-shirt, she was earning some cash to return to college in the fall. Within 6 months they were married.
Cortez café's menu has plenty of choices for breakfast and plenty for lunch. A couple of homemade soups, chili, salads, burgers, sandwiches and specials. The grilled fish in a generous Greek salad is tender and drizzled with a perfect vinaigrette. A gyro with tzatziki delivers garlicky creaminess. A pressed Cuban is crispy and moist. A juicy, plump cheeseburger with grilled onions and Swiss cheese is served on Texas toast.
But the secret to Café Cortez's enduring success is what it was always meant to be – a sensible and cheerful place with reasonable prices that underscore its welcoming way. Open to all and it is open before the sun rises.