Bridging the gap: surviving the bridge closing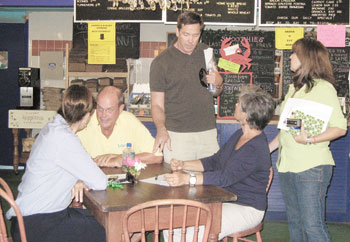 Business leaders met last week to discuss holding a series of weekend
festivals, contests and fun events to bring people to the Island while
the Anna Maria Island Bridge is closed for repairs. SUN PHOTO/LAURIE KROSNEY
ANNA MARIA – More than 50 business leaders gathered at Ginny's and Jane E's at the Old IGA last Thursday to discuss filling the gap when the Anna Maria Island Bridge closes for 45 days on Sept. 29.
Ginny Dutton, owner of the store, initiated the idea of holding events that would draw crowds of people to the Island on weekends when the limited access due to the bridge closing. She talked to the crowd about how she and Sun Advertising Director Chantelle Lewin got the idea.
"Chantelle and I got together and said why not make it an event," she said. "We've got Bayfest coming up and Bradenton Beach is holding its markets every two weeks. I know it sounds lofty, but I think we could make this happen."
Some of the ideas included a tennis tournament, a trolley poker run, an Oktoberfest, a seven-mile flea market, a dog costume contest, an artwalk, a karaoke contest, a fishing tournament and a progressive Realtor open house.
Lewin told the business leaders that they would have the full support of The Sun, which would offer weekly advertisements and news stories to promote the events.
Normally, this type of undertaking takes six to nine months to plan," she said. "We need people to volunteer to organize these events."
'Heads in the beds'
Ed Chiles, owner of the Sandbar, BeachHouse and Mar Vista restaurants, was concerned that bringing the people onto the Island might not necessarily increase business. He suggested requiring people to visit businesses or make purchases to enter the poker run.
"You have to ask yourself, 'Are we doing something to fill every rental unit and resort room,'" he said. "The businesses, meanwhile, could put together packages for people to stay on the Island and enjoy themselves at a discount."
Chiles also suggested a festival geared around the best of this part of the state featuring local wines, and dishes like gator or local fish.
Elected officials and Chamber board members were among those in attendance. The group agreed to meet again this Thursday, June 26, at 5 p.m. at the same location to fine tune the plans. Everybody is welcome to come.
Following the meeting, Bradenton Beach City Commissioner and Vice Mayor John Chappie praised the project.
"There's a great amount of energy here," he said. "Opportunities are here if you take advantage of them."
Manatee County Commissioner Jane von Hahmann praised the effort to also get Island residents to shop locally during the closure. She compare it to how she and her husband ran their store in Cortez.
"That's how Rocky and I made it during the summer," she said. "The locals are the ones who are here during the off-season."