Fuel costs putting bite on charter captains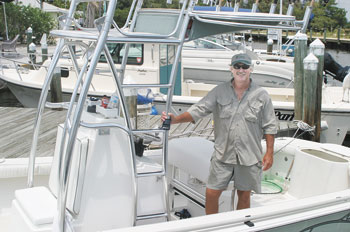 SUN PHOTO/TOM VAUGHT Captain Tom Chaya, who operates his boat
Dolphin Dreams out of Catcher's Marina, recently raised his prices
to help cover the cost of fuel.
While motorists are dealing with gasoline prices over $4 per gallon, boaters who fuel at piers are watching the average price per gallon close in on $5. Part of that extra expense is due to a marina tax, according to Jim Gallagher, assistant manager of Cannons Marina on Longboat Key.
Gallagher, who works in the rental end of the business, said so far, they have remained busy renting power boats, but the people who rent them may not be driving them as far as they have in the past.
"People have been fishing closer to home," he said. "This time of the year, the tarpon and snook are biting off the beach, so people are taking advantage of that."
Fishing charter captains are also concerned about the price of fuel, whether it is diesel or gasoline. Captain Rick Grassett, who operates out of Sarasota, said he made a change in the price he charges several months ago, but the price of fuel has outstripped the extra income and he's taken other steps, such as conserving.
"I went to a four-stroke outboard motor," he said. "It's more fuel efficient."
Grassett said he generally takes customers near shore in his flat-bottomed skiff, so he hasn't had to reduce the amount of distance he goes from home. He said he knows where the fishing is good closer to shore.
"You still have to go where the fish are," he said. "It's just a matter of running more efficiently."
Keeping it clean
Captain Zach Zacharias, of Cortez, has also taken steps to make his boat more efficient. He said cleaning the bottom makes a lot of difference.
"If you get a bunch of growth on the bottom, your gas use rises dramatically."
Zacharias said that he raised his rates a year ago, when gas approached $3 per gallon, and has not had to raise them so far this year, but the time will eventually come.
"For the past six months as the prices got high, most of my customers have been compensating me more generously in tips," he said. "I try to work as efficiently as possible, especially this time of year when I do half-day trips. I try to get my customers hooked up with fish early on so we don't have to move around."
Captain Wayne Genthner, who operates Wolfmouth Charters out of Longboat Key, said he saw the fuel price crisis come three years ago.
"When the U.S. invaded Iraq, it destabilized the Middle East," he said. "That gave the oil industry free reign to raise prices."
Genthner said that the rising cost of fuel has forced a lot of charter captains to discontinue fishing far into the Gulf.
"I generally take my customers out to around 9 nautical miles," he said, "The fishing is fantastic there and it's less expensive. We're catching mangrove snapper, keeper cobia, sharks and other fish that are just as fun and we don't have to charge more to cover fuel."
Genthner said he also changed his driving pattern.
"If I ease off the throttle and go a little slower, I can get as much as 20 percent better mileage," he said. "I keep the bottom of the boat clean so it doesn't slow me down and I think about where I'm going and don't crisscross as much."
Captain Tom Chaya, who operates Dolphin Dreams out of Catcher's Marina, said he recently raised his prices slightly, although it doesn't make up for the increase in fuel costs.
"It's sort of a 50-50 deal between my customers and me," he said. "I swallow some of the extra expense."
Chaya said he generally uses 20 to 40 gallons of fuel per day taking his customers to the near-shore fishing spots.
Genthner said the costlier fuel has a benefit because it forces everyone to conserve.
"I think we have a moral obligation not to give the oil companies too much profit," he said.
Zacharias said the squeeze is on in more ways than one.
"My take home after expenses is getting less and less," he said. "Gas is not only costing me more, but so are other things like bait because of the high cost of gas. It's what's happening to the economy right now."