New pipeline route proposed
Environmental concerns remain but Port Dolphin offers to reroute its pipeline around offshore sand reserves.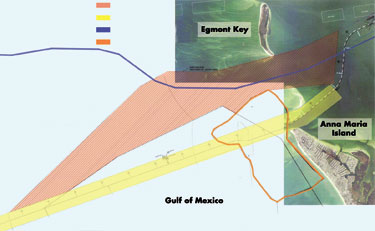 GRAPHIC/PORT DOLPHIN
PORT MANATEE – Manatee County commissioners are delighted with Port Dolphin's unexpected offer to relocate its proposed natural gas pipeline to avoid an underwater beach renourishment sand reserve.
But the commissioners, who also serve as members of the Port Authority for Port Manatee, where the pipeline would come ashore, told the natural gas shipping company that they expect even more.
"We've heard the community loud and clear," Port Dolphin spokesman Harry Costello said, apologizing for what he called "miscommunication" over where the pipeline would be built.
"We want to be a good neighbor," he said. "We will do a better job in communicating."
More concerns
While acknowledging Port Dolphin's concession, Commission Chairman Jane von Hahmann made it clear that the dialogue is just beginning between the low-profile company and the county.
"There are other items besides the sand source," she said, including environmental impacts.
Commissioner Gwen Brown echoed concerns about the marine environment in the Gulf of Mexico where the floating regasification port is proposed for 28 miles off Anna Maria Island. She asked Port Dolphin to contact all the environmental groups in Manatee County to show its good faith.
While the commission and the port authority are comprised of the same officials, von Hahmann said the members are concerned about protecting the community, not just attracting business to the port.
Port Authority Chairman Joe McClash agreed.
"It pains me to hear we might want to disregard the environment – that's not the case," he said.
Sharing pipe
Commissioner Amy Stein, who mailed out brochures last week to line up support against Port Dolphin's pipeline route, raised a concern about the Houston-based company's proposal to build its own proprietary pipeline when another natural gas pipeline is available nearby.
Gulfstream Natural Gas System has offered to allow Port Dolphin to tap into its pipeline offshore, but Port Dolphin officials have said technical issues would prevent the two systems from being compatible.
An offshore interconnect with Gulfstream is favored, Stein said, encouraging Port Dolphin to share technical specifications with Gulfstream before meeting again with the commission.
The company has no current plans to connect offshore with Gulfstream, Costello said.
Until Manatee County's beach renourishment engineering firm, Coastal Planning and Engineering, discovered that Port Dolphin's plans included installing its pipeline in an offshore sand reserve, government officials and citizens were largely in the dark about the project.
While county staff reviewed the onshore portion of the pipeline in March, they had not yet become aware of the offshore portion, said Manatee County's Charlie Hunsicker. As director of the county's Conservation Lands Management Department, it was Hunsicker who brought Coastal's findings to light in May.
Coastal estimated a $53.2 million cost to the county over the next four beach renourishment projects, spaced 10 years apart, and another $4.75 million for Longboat Key to find and dredge equivalent quality sand.
"A very important precedent has been established to protect important beach compatible sand sources as we look to the future of the very real potential for additional oil and gas exploration," Hunsicker said. "Should those explorations prove fruitful, each of those companies will be looking to offshore undersea pipeline routes to bring their product to southwest Florida, and in that event, the importance that we have placed thus far on the sand resources will be a message loud and clear into the foreseeable future."
Other sand sources
The town of Longboat Key, part of which lies in Manatee County, is also looking to the future when current sand reserves will be depleted, and is exploring the Gulf for other sand sources near Port Dolphin's pipeline route.
"We are cautiously optimistic that the relocation of the pipeline would also attempt to avoid other areas that we are currently studying offshore for sand," said Juan Florensa, town public works director. "We are willing to share technical information with Port Dolphin on where the other reserves are so they can avoid them."
The recent involvement of elected officials, including U.S. Rep. Vern Buchanan, who gained the support of 14 members of Congress to oppose the pipeline route, and a law firm that Longboat Key hired to fight the pipeline, likely prompted Port Dolphin's action, he said.
"I think they underestimated the opposition."