Tampa's urban fly-fishing adventure

From the June 18, 2008 Issue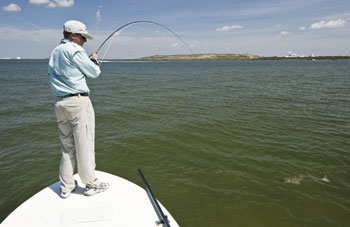 PHOTO/RUSTY CHINNIS
Captain Bryon Chamberlin applies pressure to a Tampa Bay redfish
When Captain Bryon Chamberlin first told me about the fabulous wade fishing near downtown Tampa I was intrigued. However, as we pulled up to the flats right after sunrise, intrigue turned to doubt as I surveyed a front end loader tearing down an industrial building to the north and factory smoke stacks belching fumes to the south. In the early morning hours this looked like anything but a redfish and trout hot spot. Chamberlin read my face and assured me that we were indeed at the right place. We began the urban fly fishing adventure by anchoring our boat in about a foot of water while the early morning falling tide began to wane.
We started on the edge of the flat and fished the grass seams where the water dropped off into the bay, each catching a couple of small trout and a redfish. Soon after the tide began flooding the flat he announced that it was time to move to the potholes just behind us. With a confidence that surprised me, he predicted that in about 10 minutes, redfish would start coming into the hole from deeper water to the south. I didn't time him, but it wasn't long before the first red materialized right in front of me. I made a cast too close to the fish and spooked him. That's when Chamberlin told me to just cast the fly into the hole and wait for the next fish. I did as he suggested and five minutes later a dark shape appeared at one end of the hole. I waited until the fish ventured to within a couple of feet of the fly and gave it a short strip. Instantly the redfish ran to and inhaled the fly. As the waters of the bay flooded back during the rising tide, redfish and trout began working through the slues and potholes in search of food, and Chamberlin made a believer of me. By late morning we had caught a number of redfish to twenty six inches and several trout. He had found gold around downtown Tampa where others failed to prospect.
Chamberlin prefers to fish the negative low tides that occur around the full and new moons. Prime conditions occur when there are light to moderate, north or northeast winds. Favorable winds blow the water out and create abnormally low tides. These negative tides force fish into deeper staging areas where they wait for enough water to give them access to the grass flats. Northerly winds also delay the flood tide, giving anglers more time to explore areas that hold fish before they spread out on the flat and are harder to target.
Flats around the urban Tampa area can be heavily fished and like flats through-out Florida, they're getting more pressure all the time. Conditions dictate that anglers must be students of their craft to produce consistent results. Chamberlin, like other successful fly anglers who fish populated areas, employs a number of strategies depending on the conditions.
When he's located an area that holds jumpy fish he stations himself about a 30-foot cast away from an area where he has good visibility. To avoid detection he stands perfectly still over dark bottom. If positioned correctly it's possible to cover almost a 360 degree area with a radius that matches the length of your cast. It requires a bit of patience, but it's extremely effective when stalking wary fish.
Well thought out tactics will often make the difference between target practice and catching fish. If you're going to produce fish consistently on the fly on a "downtown" Tampa flat you need to use every advantage available. If the visibility isn't great, or he's fishing early or late, he scans the flat and then narrows his vision to any motion he detects. Chamberlin lands lots of fish by casting to a shadow, the white edge of a gill plate and other almost imperceptible cues. Experience has shown him that it's better to cast to a piece of grass and be wrong than to assume it's a piece of grass and miss a shot at a nice fish.
Tampa Bay is Florida's largest estuary, and although progress has taken a toll on its resources, especially around urban areas, the flats that remain hold healthy populations of trout, redfish, snook and a host of other species. You'll have to be up on your game to be consistent, but quality fishing is right at the foot of some of Tampa's busiest streets.