New sub shop food and walls a treat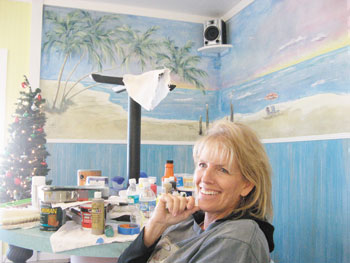 SUN PHOTO/LAURIE KROSNEY
Artist Kathryn Dawson takes a break from painting beach scenes on
the walls of Rudy's, a new sub shop in Anna Maria.
ANNA MARIA — Not only are the subs great at Rudy's, but it's a treat for the eyes to just look at the walls.
Kathryn Dawson, an artist with a national reputation as a watercolorist, muralist and faux painter, came from her home in Colorado to paint the walls at Rudy's in Anna Maria.
Dawson makes a living painting scenes on walls, sheet music, wallpaper and prints — anything that her clients want. She did a wall the Blue Mansion, a famous site in Denver. She took first prize in the nation for a Carnival Cruise Line contest.
Not so many years ago, Dawson was teaching physical education. But she lost her voice, which made her career impossible.
'I turned to painting," she said. "My mother was an artist, and she always encouraged me, though I didn't know she was doing that at the time."
Dawson was selling watercolors at the Colorado Renaissance Festival a couple of years ago when she really discovered her muse.
"I didn't have anything to do, sitting at my booth," she recalled. "I decided to paint, but there wasn't anything to paint on except some sheet music I had just bought."
So the sheet music became the background and patrons started gathering.
"The paintings were selling like hotcakes," she said. 'I couldn't keep up."
And Dawson has never looked back. She came to Anna Maria to help launch her sister-in-law's new sub shop with murals.
There are beach scenes featuring sailboats skimming across the walls with the names of the owners' favorite new Island friends. There's a boat celebrating a favorite football team. There's the VW bug with surfboards and a bikini-clad dauschund.
"The first time we came onto the Island, we saw all these weenie dogs on the Causeway," said Julie Quinlivan, who is one of the owners of Rudy's.
"We always see a whole bunch of weenie dogs on the Causeway," Rudy's other owner, Sally Woodward said.
So Kathy Dawson put weenie dogs on the wall to reflect the two owners and their introduction to the Island.
Quinlivan and Woodward are veteran sub shop owners. They bought a shop in Littleton, Colorado, but it got too successful.
"We didn't want to work that hard," Woodward said. "It was grueling."
They sold that shop and found their way to Anna Maria Island, where it was natural for them to open another sub shop.
Rudy's, which is named for one of the household dogs, is in the midst of a soft opening this week.
Featured items are the famous Philly cheese steak, which comes in a six-inch length for $5.95, an eight-inch for $7.95 or a 12-inch for $9.95.
There are also Italian, turkey, ham, club, cheese, meatball and chicken or tuna salad subs, all sold by the size.
Or you can go for the roast beef and cheddar or the French dip. There are homemade baked treats to polish it all off.
Rudy's is located at 9906 Gulf Drive, right next to Green Real Estate. In December, they'll be open Tuesday through Saturday from 10 a.m. until 3 p.m. Their number is 896-7844