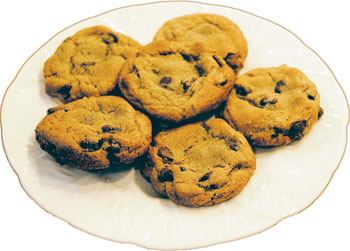 Bourbon balls. That was my first taste of bourbon. It was in my grandmother's kitchen that I first saw these cookies prepared and at her table that I first ate them. Just delicious. My grandmother was a beautiful, small and slightly plump woman. She kept a crystal rosary wrapped in a pretty handkerchief with lacey edges tucked up her arm sleeve and was passionately interested in her church and crocheting. I really remember her very well. She smelled good, a combination of baby powder and White Rain hairspray and a hint of tea roses. My grandmother was always chilly, and if she was chilly, the children were most certainly were in danger of "catching a draft."
I remember the occasion: grandpa refused to close the window in the kitchen and went back to reading The Wall Street Journal. It was one of the first Ohio spring days and the breeze carried into the kitchen the smell of fresh mown grass. Grandma was convinced germs entered through ears and wouldn't take any chances, especially where grandchildren were concerned. She wrapped a pink flowered babushka around her head, tied it neatly under her chin and against my whimpering protest, tied another babushka around my head as well. She crossed herself and kissed the top of my head. Then we bent over the kitchen table and started to crush vanilla wafers with her wooden rolling pin. This is my grandmother's recipe:
Bourbon balls
2 1/2 c. crushed vanilla wafers
2 c. confectioner's sugar
2 Tbs. cocoa
1 c. finely chopped walnuts
3 Tbs. karo, light corn syrup
6 Tbs. bourbon whiskey (or more!)
Crush wafers fine. Add and mix well sugar, cocoa and nuts. Add karo and bourbon. Form into small balls, roll in powdered sugar and do not bake.
Imagine the world's most decadent cookies, triple it, add chocolate and M&Ms, top with sprinkles, and you are in Kenzie Marcum's kitchen, eating cookies bigger than cookies have any right to be, with toppings and fillings not even Elmo would have concocted. Called Kenzie's Mimos and made with all the love a 7-year-old can mix in, a bit of muscle from brother Dylan and a helping of oatmeal from dad, Jim, just for a teensy less guilt.
Kenzie's Mimos
1 c. softened butter
1 c. packed light brown sugar
1/2 c. white sugar
2 eggs
2 tsp. vanilla extract
1 and a quarter Cup all purpose flour
1/2 tsp. baking soda
1 tsp. salt
3 c. quick cooking rolled oats
1 c. M& Ms
1 c. semisweet chocolate chips
Sprinkles of choice
Preheat oven to 325 F. Cream together the butter, brown sugar and white sugar until smooth. Beat in eggs one at a time, then stir in vanilla. Combine flour, baking soda, and salt; stir into the creamed mixture until blended. Stir in the rolled oats, M&Ms and chocolate chips. Drop spoonfuls onto an ungreased cookie sheet and add decorative sprinkles before baking. Bake for 12 minutes in the preheated oven. Allow to completely cool before transferring cookies.
Jim adds, "Kenzie loves tweaking this recipe – orange sprinkles for Halloween, Stars and Moons just because, nuts can be subbed for M&Ms or chips. Play, have fun. Makes around 3 dozen,. Plenty to send over to friends."
Cookies were one of the first things Cindy Slaman learned to cook when she was little-or at least mixed up, rolled out and licked the bowls clean, which in actuality are just as important. It is in baking that her past and present meet with considerable humor and charm as she mixes up batches of these Old Fashioned Chocolate Chip Cookies with her children, Katrina and Konrad. There is some dispute over these truly American cookies – chewy and soft, flat and buttery or crispy and thick? Should they be sized like a quarter or served as one huge pancake? Served warm or cooled? Instead of entering the debate, I offer you Cindy's cookies of which I am a great fan. They are baked at a low temperature and for a considerably longer time than most cookies. Cindy's are a liberal and substantial size, crunchy, chunky and best warm, but then I've never been able to wait for them to cool!
Old Fashioned Chocolate Chip Cookies
1 lb. unsalted butter at room temperature
2 c. dark brown sugar (1 box)
1 1/2 c. granulated sugar
3 eggs (large)
2 Tbs. pure vanilla
6 c. all purpose flour
1/2 tsp. salt
1 1/2 tsp. baking soda
4 c. semi-sweet chocolate chips
2 c. pecans, optional
Preheat oven to 250 F. Cream together in a large bowl (Kitchen Aid preffered) butter and sugars. Add flour, salt and baking soda. Add eggs, vanilla extract, chocolate chips and then nuts. Cindy uses a regular tablespoon or ice cream scooper and puts a fairly large dollop with a 2-inch spacing between scoops.
Bake 20-30 minutes on wax paper lined cookie sheets for 20 to 30 minutes. After removing from the oven, let cool a couple of minutes and then move to wire racks to completely cool.
Originally specially made for husband, Jim, a true pecan devotee, these cookies have a sophisticated adult pedigree. Cindy makes half of the cookies and then adds a cup or so of pecans for Jim's private stash. Every once in a great while she has forgotten to make the nut adjustment and "has not lived it down---back into the kitchen to make an entire batch of pecan filled cookies just for him!"
"My kitchen is a mystical place, a kind of temple for me. It is a place where the surfaces seem to have significance, where the sounds and odors carry meaning that transfers from the past and bridges to the future." Pearl Bailey 1918-1986.
How precisely this describes my feeling for these cookies. Cookies I've always considered special, indeed ritualistic. I think of ginger snaps as a well-tailored sort of cookie: subtle, refined, never showy and always appropriate! Let the masses eat their tiramisu and crème brulee, for those that seek serenity in simplicity, sweet fulfillment will be found in this confection. It is because of this recipe, stolen from my mother, I joined the cookie cult for life.
Ginger Snaps
Preheat to oven to 350°
Sift together:
2c. flour
1tbsp. Ginger
2tsp. baking soda
1tsp. cinnamon
half tsp. salt
Sift again two times. Return to sifter. Beat _ Cup shortening until fluffy. Add 1c. sugar. Continue beating and add one egg, quarter cup molasses. Sift approximately quarter cup flour mixture over molasses mixture and stir to blend. Repeat until all flour mixture has been added. Form teaspoons of the dough into small balls. Roll balls in granulated sugar. Place 2in. apart on ungreased baking sheet. Bake 10-12 minutes or until tops are slightly rounded, crackled and brown. Remove and cool on wire racks.