Trout fishing book will hook children
From the November 26, 2008 Issue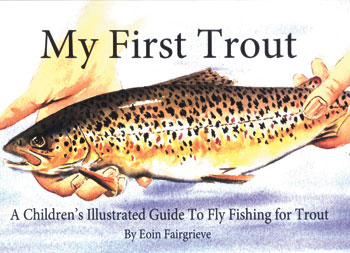 I can't think of anyone better suited to write a book about kids and fishing than Eoin Fairgrieve, the amiable Scot. I met Fairgrieve when he was on vacation in Florida and took him sight fishing for redfish. On my trip to Scotland he returned the favor with a day on the Tweed where I was introduced to salmon fishing, Gillies and tradition. Later in the day Eoin took me to his Centre of Excellence, a fly school at the Roxburghe Golf Club in the Scottish Borders region.
Set on a beautiful estate, Fairgrieve lives his dream in an idyllic setting where he teaches special needs children, as well as the gentry from Scotland and England. Besides being a gifted teacher and world champion fly caster Fairgrieve is also a gifted author who understands that young minds are fascinated with the world of field and stream.
I often hear members of the fishing community lamenting the lack of new blood, the next generation of anglers that will carry on our passion. Traditionally, the skill of fishing has been taught by parents to their children.
And while this will always be the best path to perpetuate our passion, we are now competing with Wii, Game Boy, Xbox, Face Book and You Tube. The amazing digital world has captured both young and old alike and provided both an amazing resource and a huge and often frivolous distraction.
Fairgrieve's book is a perfect vehicle to get children interested in fishing. Its unique combination of illustrations, text, instruction and game are aimed at kids from pre-school to 10 years old, but has enough interesting information to keep even adults turning the pages.
The book fits easily in the lap and starts with a dedication to his two girls. The facing page has a place to personalize the book with owner, age and who he/she received it from.
The chapters start as they should with a discussion of safety from wearing glasses to protecting the eyes to using sunscreen. Chapter two introduces the trout family with general information about the species, including illustrations of the most common species and their distribution.
Subsequent chapters cover the trout's lifecycle, anatomy and what they eat. Every chapter has colorful and inviting illustrations by Fairgrieve's friends Ronnie Glass and Anna Craigen.
While only a slim paperback, "My First Trout" is an oddly comprehensive book on trout, that connects the reader to their environment, the one they share with us. Readers will be introduced to the basics of fly tying, flies, knots and fly casting. The important issue of fish handling is covered with the emphasis on respect for the trout.
The final chapters of the book cover the waterside environment, a fishing log and even a Word Search game. "My First Trout" will make a terrific Christmas gift for children on both sides of the Atlantic. Much of the information is germane to our own environment and to teaching the basics that cover all forms of fishing. "My First Trout" can be ordered by visiting Eoin's Web site at www.centre-of-excellence.co.uk or e-mail Eoin at eoin@centreof-excellence.co.uk. And be on the lookout for the next book in the series, "My First Salmon."