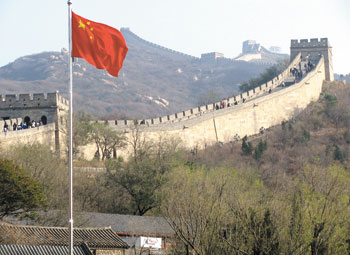 The Great Wall of China seen outside of Beijing. PHOTO/JOHN BOLGER
If you're a passionate traveler, you know that as exciting and educational traveling to exotic locations can be, sometimes there are also challenging aspects.
At the end of a wonderful trip to the Far East starting in Beijing, China, and ending in Bangkok, Thailand, my husband and I found ourselves caught up in civil unrest in the lovely city of Bangkok.
A group called the People's Alliance For Democracy (PAD), who were calling for the resignation of the prime minister, took over Suvarnabhumi International Airport, cancelling all incoming and outgoing flights the night before we were scheduled to leave. We, of course, were forced to stay on at our hotel, assuming it would all be over in a day or two at the most. As anxious as we were to return home after an already long four-week trip, the prospect of a few extra days at our luxury hotel on the Chao Phraya River didn't seem to hard too take.
Three days later, after overrunning the police, the protesters were still occupying the airport and the jewel encrusted temples, river boat rides and delicious food didn't have the same appeal. We, as well as 100,000 more travelers, were being held hostage and starting to get nervous. Our original flight was rescheduled to Dec. 9, a date that brought tears to my eyes.
There were some flights leaving from the military airport, U-Tapao, about two hours from the city and more leaving from Phuket, about 13 hours away. Not only were flights from these locations hard to come by, but there were reports that both of these airports especially U-Tapao, were flooded with people trying to leave the country and getting stranded. Meanwhile, the protesters were not leaving the international airport, the Prime Minister was not resigning, and we weren't going home.
What happened next was a classic story of being in the right place at the right time. The managing director of the travel company, who was handling air travel arrangements for cruise passengers staying at the hotel, started holding briefings. Although we were not part of the group he was responsible for, we sat in on the meetings in an attempt to gather information.
On the evening of Dec. 1, Mr. Chadavadh, of Regale International Travel, held his third briefing about the situation. In an attempt to reassure those in attendance that flights were starting to get out from other airport facilities, he mentioned that just 10 minutes earlier he learned that the first non-scheduled flight to the United States was planned for the next night, Dec. 2, from the military airport U-Tapao direct to Los Angeles.
After the meeting broke up, my husband and I approached him and asked if there was any way we could buy a ticket to get home. Since we were informed that the American air carriers would only fly out of a recognized international airport, we knew there was no chance of using our Northwest Airline ticket anytime soon. He said if we wanted to get on the Thai Airways flight tomorrow night to Los Angeles, he would see if there was space. Without hesitating, my husband took out his American Express card and within 30 minutes we had confirmed tickets in our hands as well as a four figure unplanned charge on our credit card.
We left the hotel at 10 a.m. the next day, along with two other American couples, for a 7:20 p.m. evening flight. We were driven to Bitec Center, which is a convention center about 30 minutes outside of the city. Some Asian airlines had setup an airport check-in point at Bitec that functioned just like an airport check-in terminal.
The convention center was well organized with luggage scanning machines, check in locations issuing boarding passes and a Thai Immigration desk. The only difference was that after you exited through either Gate 1 or 2, instead of getting on an airplane, you boarded a bus for a two-hour drive to the U-Tapao military airport near Pattaya. U-Tapao, by the way, was built by the U.S. government during the Vietnam War.
Almost immediately upon arrival at Bitec, the Thai Airways authorities told us the U.S. government had withdrawn its approval for the plane to land in Los Angeles. They were working on an alternative and would get back to us. At this point several calls were made to the U.S. Embassy to no avail.
Within an hour, Thai Airways personnel informed us they were forced to change the non-stop flight to Los Angeles to a stop over in Osaka, Japan. The U.S. government would not recognize the security measures that were in place in Bangkok, but would accept Japan's security procedures, which would require both the plane and the passengers to go through a security check in Japan before proceeding to Los Angeles.
We were issued boarding passes, seat numbers and a new departure time of 3 a.m. In addition, Thai Airways told us we would be bussed to a hotel about 30 minutes away, provided a room and dinner until the 9 p.m departure for the airport. In spite of the fact that I still had not set eyes on an airplane, just having an actual boarding pass in my hand started to unwind the six-day knot in my stomach.
We traveled in a caravan of seven buses with a police escort and arrived at the airport about 1:30 a.m. Arriving at a foreign military airport guarded by the Army in the middle of the night was both fascinating and intimidating. In addition, this was in a remote area with few buildings and poor lighting. The only things illuminated were the dozen or so busses loaded with anxious passengers trying to escape what was previously always thought of as a safe, friendly country.
When I saw the Thai Airways flight crew get off the bus in front of ours, my faith in the power of prayer was renewed. We were not permitted to leave the bus since that was a secure area. The luggage was loaded onto the plane, and then we were driven to the runway and allowed to board an Airbus A340-500. The plane was going out at about three-quarters capacity since the runway at the military airport was not long enough to accommodate an aircraft that large fully loaded. Thai Airways seemed to be in a hurry to get off the ground and made several announcements for people to take their seats, at exactly 2:53 a.m, seven minutes ahead of schedule, the wheels were off the ground accompanied by the cheers of 160 very relieved passengers.
We landed in Osaka, Japan, five hours later, where the security check was done and the plane refueled. After three hours on the ground in Japan, we took off for Los Angeles, a 10-hour flight. From Los Angeles, we booked a non-stop flight to Tampa arriving home at 7:30 p.m, Wednesday, Dec. 3.
The day we left Bangkok, the prime minister resigned and the PAD members said they would start to leave the airport, but airport authorities didn't expect to have the airport fully functional for some time, so we knew we made the right decision.
We arrived home exhausted after traveling 42 hours, 19 on an airplane. But all of that was quickly forgotten when we saw the same sign we had seen dozens of times before – "Welcome To America."