When the fish aren't biting, go stone crabbing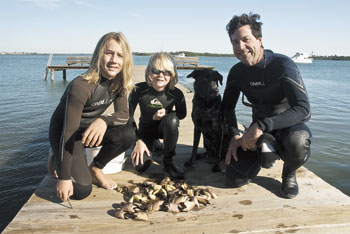 SUN PHOTO/RUSTY CHINNIS Hunter Parrish, left, Garrison Clark and
Benny Parrish look over their harvest of stone crab claws.
When the weather changes in Florida, there are often options for the outdoorsman that allow a productive day on the water when the fish aren't biting. That was the case this past weekend when my plans to fish with friends Benny and Hunter Parrish required a change of strategy that lead to a successful seafood dinner without ever wetting a line. When our plans to fish on Saturday didn't pan out, we rescheduled for Sunday. However, Sunday didn't appear any better as a hard north east wind and the lower temperatures of an incoming cold front passed through the area. It seemed that our fishing plans had hit a roadblock.
However, fishermen are a determined lot and as I headed to the bay on Sunday morning to check the tide. On the way I ran into the Parrishes, who had the same idea I did – stone crabs. We knew that it wasn't the time of the month for a low tide that would expose prime flats, but we also knew that a hard north east wind would often provide the right conditions for stone crabbing. It didn't take but a quick glance at the bay and our watches to know it was time to go. Ten minutes later Benny, his son Hunter and his friend Garrison Clark pulled up to my house with their boat and we were off to the ramp.
We arrived on the flats about an hour before low tide and were able to have productive conditions for 2 1/2 hours, thanks to the wind, which pushed extra water from the bay. Benny opted to use just his hands and gloves to reach into the stone crab's lair, while Hunter and Garrison used heavy wire with less than a 90 degree bend to coax the crabs from their holes. The crabs can be located by looking for mounds of sand that have been created when they dig their holes. Not all holes have crabs, and it takes a little time and diligence to be able to find the right flats and conditions that attract these delicacies. It's important to remove the claw properly by firmly grasping the crab and snapping it cleanly from the body. In 2 1/2 hours, we were able to harvest enough claws to feed three families and salvaged a day on the water.
Stone crabbing can be fun and productive for anyone willing to walk the flats on a cold day, putting their hands in holes where crabs with large and very strong pinchers live. If practiced properly there's a very good chance that you'll return with a great meal and all your fingers! The strategy involves looking for holes in the flats where the crabs live and then convincing them to come out and share claws with you. There are a few rules that anyone who wants to try stone crabbing must follow. These rules make sense and help protect the health of the stone crab fishery and the crabs. No females with eggs can be harvested. Claws must be at least 2 3/4 inches long, measured from the tip of the claw to the first joint. The limit is 1 gallon of claws per person or 2 gallons per vessel, whichever is less. It's unlawful to use any device to capture stone crabs that can puncture, crush or injure the crab body, such as spears, hooks or similar devices, and a Florida recreational fishing license is required.
While it is lawful to harvest both claws of the stone crab if they are minimum size, I personally don't think that this is a wise rule. While stone crabs can grow their claws back like other crustaceans, it allows them fewer options for defense and makes the process much tougher for the crabs as, they cannot harvest the same amount of food which is needed for the process. The sooner stone crabs can obtain the food required to molt and grow their lost claws, the quicker they will be available again.
Cook your claws assoon as you return from the water by dropping them in boiling water for exactly 5 minutes. When they're done, put them immediately in ice water to stop them from cooking and separate the meat from the shell. Stone crabbing can be challenging, but it's a great experience for both adults and children. There's something special about harvesting your food from the wild on a cold day and then experiencing the reward of one of Florida's greatest delicacies.