ABC Rentals will meet your needs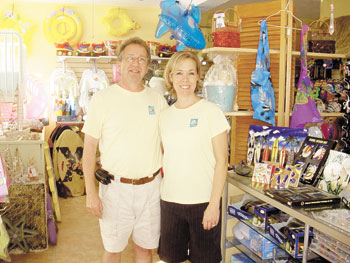 Bob and Lynn Shaffer rent beach and baby equipment at
ABC Rental s SUN PHOTO/LOUISE BOLGER
What do you think about when it's the middle of winter in Buffalo, N. Y., and there's seven feet of snow on the ground? What Bob and Lynn Shaffer thought about was Anna Maria Island and all the wonderful and warm winter vacations they had with their family. That was the year they said, "Enough," sold their home and business and moved to Florida.
It didn't take long for these youthful grandparents to start looking for a small business to start after relocating in 2002. Their business background was in retail sales and rentals in Buffalo, so opening the same type business was a natural. Only this time instead of renting appliances they were renting beach and baby equipment.
ABC Rentals started in a warehouse in Sarasota and quickly became busy supplying rental items to Sarasota, Bradenton and the islands. Five years ago, the Shaffers opened a store in Sarasota and in May of 2008, after multiple customer requests, opened another on Cortez Road on the way to the beach. The business has grown so much they now have a 3,000 square foot warehouse, three trucks, two drivers, the Sarasota Ritz Carlton as clients and an inventory of 200 cribs.
But cribs are only one of the approximately 75 rental items available at ABC Rentals. You can also rent for port-a-cribs, toddler beds, booster seats, high chairs, joggers, strollers, car seats, bassinets and more. They also have available rollaway beds, air beds and air mattresses for those planned and unplanned winter visitors, as well as beach chairs, umbrellas, fishing polls, tennis rackets, bikes and kayaks. You can even rent beach and standard wheelchairs, walkers and shower stools for your senior visitors, and if they don't already have something in stock, they will try and get it.
If you're concerned about placing your precious child or grandchild in a rented crib or high chair, Lynn Shaffer says don't be. She personally cleans every item when it's returned with hospital grade sanitizers and then puts it through a thorough rinse.
In addition sheets and pillow cases are professionally laundered and mattresses sprayed. ABC Rentals guarantees the cleanliness of its inventory, and Bob Shaffer says his wife is a meticulous woman who treats other people's grandchildren like she treats her own. In addition, the Shaffers retire 20% of their inventory every year keeping their rentals fresh, and donate the retired inventory to local charities where they can help families in need.
ABC Rentals is also a very well stocked beach shop with off island prices. There are tons of souvenirs, beach supplies like sandals, beach bags, candles, sunglasses for both adults and kids, children's clothes and tee shirts, boogie boards, water toys and some adult clothing. The shop also functions as an area information center with complimentary maps, brochures and business cards available for dozens of local businesses. Truly one stop shopping for most of your day at the beach needs.
ABC Rentals' motto is "Let Us Exceed Your Expectations," and these parents of five and grandparents of four work hard to make that happen. The beach is just over the bridge, the sun is shinning, everyone is on vacation and there isn't a snowflake in sight.
ABC Rentals
12408 Cortez Road W., Cortez
941-792-6171
Open daily
10 a.m. to 4 p.m.
(call for hours in season)
MasterCard, Visa, Discover accepted
www.abcbabyrental.com