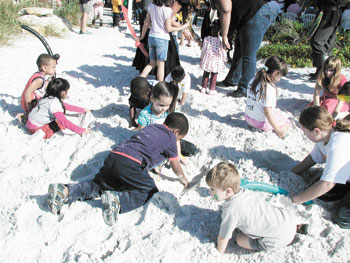 SUN PHOTO/PAT COPELAND Above, kids dig for treasure
buried by the Anna Maria Island Privateers.
ANNA MARIA – They came in their best Christmas finery to join in the fun at the14th annual Lawton Chiles Christmas for Kids held at the Sandbar restaurant last week.
"We have a record number of kids – 124 from Head Start and Healthy Families Manatee," Ed Chiles said at the event. "It's so important to nurture healthy kids."
On the beach sand was flying as a group of kids dug for treasure encouraged by Anna Maria Island Privateers, who buried a bevy of surprise gifts in a large mound. Some were hesitant to put down their colorful balloons twisted into animal shapes by clowns Snowbird (Mady Iseman) and Sparky (Betty Palsgrove).
Others, eyes wide with wonder and giggling with delight, hugged costumed characters strolling the pavilion or had their faces painted. Some made Christmas cards with stickers and glitter and fished in the fish pond for prizes.
Spiderman glided among them dispensing greetings and pats on the head. Then they all took a break to settle into chairs at the pavilion's large round tables and eat lunch.
"It's amazing," Chiles remarked. 'We always get good weather for this. The kids are having a great time and it demonstrates the beauty of giving. It's a great party because of Patti McKee and all the employees and friends who volunteer. I'm privileged to have it."
Chiles quietly slipped away to become the man of the hour and shortly a cry rang out, 'Santa is coming! Santa is coming! Look down the beach!"
An ATV, driven by Manatee Sheriff's Office Dep. John Damato, came into view with the jolly fat man in a red suit and white beard on board. Santa called to the children, who quickly surrounded him, jumping up and down as he disembarked. He told the excited children to line up for gifts and settled into his chair in the gazebo to dispense a bag of presents to each child.