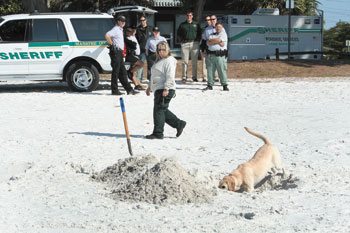 A police dog sniffs a hole dug in the beach Tuesday morning in the
search for Sabine Musil-Buehler. SUN PHOTO/ MAGGIE FIELD
ANNA MARIA – A tip in the search for missing Holmes Beach hotelier Sabine Musil-Buehler turned into a dead end shortly after investigators began digging in the sand on Tuesday morning.
Police received a lead indicating some possible evidence on the beach near the Magnolia Avenue home that the 49-year-old woman shared with her boyfriend, William Cumber, 39, Manatee County Sheriff's Office Deputy Sgt. John Kenney said.
Two cadaver-sniffing dogs from Polk County alerted investigators to a single area, which was roped off and dug up. Nothing was found, he said, adding that the dogs could have sensed blood from a minor cut or other human waste.
A witness told the Sun that he saw an elderly woman on the beach early Tuesday morning walking her dog, which had been sniffing the ground in the area where the search site was later roped off. Another witness said she saw the missing woman's car illegally parked overnight near the site around the time of her disappearance on Nov. 4.
Cumber, who was sentenced to 42 months in prison and three years probation for setting fire to his ex-girlfriend's house in 2005, was released from prison on Sept. 13 but was back in jail in Marion County on traffic and violation of probation charges on Tuesday, according to Manatee County Sheriff's Office spokesman Dave Bristow.
Cumber told the Sun earlier this month that he has no idea where his missing girlfriend is, had nothing to do with her disappearance and wishes he could relive the night she vanished after an argument over his smoking.
Two days later, police found Musil-Buehler's car in Bradenton, driven by Robert Corona, who was arrested for theft. Blood found in the car was later determined to be hers.
On Nov. 16, fire destroyed a duplex at Haley's Motel, 8104 Gulf Drive in Holmes Beach, co-owned by Musil-Buehler and her estranged husband and business partner, Tom Buehler.
Cumber, who was seen by neighbors in the area the night of the fire, was interviewed by investigators. He told the Sun that someone is trying to "frame" him for the Haley's fire.