Sea trout return in record numbers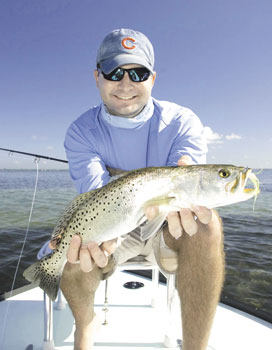 SUN PHOTO/RUSTY CHINNIS Adam Fernandez shows
a sea trout he caught in Sarasota Bay while fishing
with Sun Outdoors Editor Rusty Chinnis.
At the end of the 2005 season, I would have bet you good money that local trout populations wouldn't recover in less than five years. Now, just three years later, trout populations in Sarasota Bay are nearing what (in my 28-year memory) may be an all-time high. In the last few months, I've heard encouraging stories from local guides like Randall Fowler, Justin Moore and Scott Moore. Last Saturday, I experienced the return first hand with Bradenton attorney Adam Fernandez.
The waters that surround Sarasota Bay have never been known as a classic trout destination. While a double digit trout is a rare occurrence, large trout have made a significant recovery in the past few years. Sea trout have always been a prime target of conventional anglers, but never caught the attention of the ardent fly fisherman until recently. Most would rather target redfish, snook and tarpon. The average Gulf coast trout weighs in at about 2 pounds and doesn't put much of a bend in an 8-weight rod. Larger trout are harder to find, are much more wary and a worthy adversary on a mid-weight rod. The reason most fly anglers haven't pursued them is that they have been so scarce.
In the early 80s it wasn't uncommon to catch a 6-pound trout during the late winter and early spring. By the mid 80s a large trout was hard to capture on any tackle. The advent of the net ban in 1995 gave anglers great hope for a resurgence in trout, but the anticipated re-birth didn't materialize until just the past two years. Now trout are a real possibility and fly tackle fished stealthily is one of the best ways to lure a big fish to the hook.
Fernandez and I targeted two flats early on the day we fished, waiting for the fog to lift. When it finally did, we found schools of trout from 2 to 4 pounds over white sand, where we were able to sight-fish them. For me, that's what's really been missing in the last few decades. Most of the trout fishing I've done has been over deep grass while blind casting. The ability to actually sight-fish them over grass and sand holes adds a whole new dimension to the game.
The morning we fished, we had a short window of opportunity before clouds obscured our view, but we still managed to land four fat trout and several bluefish on flies. We were amazed at the numbers we saw including a few that looked to be pushing 30 inches.
Traditionally, the best time to target trout is during the months of March, April and May. The months of December through February can also be good for trout that forage for food during the lean winter season. Sight fishing trout from a boat requires a stealthy approach. Even the pressure wave of an angler moving in an approaching boat can spook trout. When sight-fishing from a boat, move extremely slowly and avoid any noise including the push pole hitting the boat or any other sounds that might telegraph from the boat through the water.
Flats with healthy grass beds with white sand holes and edges provide cover and forage for baitfish, shrimp and mullet, a favorite prey of large trout. When picking a fly, try and mimic the prevalent forage food. In local estuaries and the open bay, mullet may be the dominate food source, but trout are opportunist, and will pursue glass minnows, shrimp, pilchards and other available food sources. The pattern varies depending on the season and water temperatures. During times of low visibility and low tides, fly anglers can move their efforts to the deeper edges of flats, the drop-offs into rivers and bays and the deep edges of oyster bars.
Leaders should be long and tapered (up to 12 feet) with no more than a 30-pound bite tippet. I prefer a premium 20-pound fluorocarbon bite tippet. While it's possible to catch big trout on larger tippet, I think the smaller diameter is best for the biggest and wariest trout. Your approach, even on foot, is very important. When wading, shuffle your feet and move slowly to avoid a pressure wave, and remember never to rip the leader and line from the water. When lifting the line for another cast, raise the line to the leader before applying power for the false cast. Every advantage is necessary in the hunt for sea trout.
This is a game in which anglers may have to cover a lot of water. When fishing for trout, never run the flats (a good thing to always avoid) looking instead for surface action, including schools of mullet and diving seabirds. Top producing flies include the Clouser Deep Minnows, Lefty's Deceivers and top water poppers. While poppers are effective for trout, I find them more effective in deeper water. A big noisy popper will often scare wary trout off a shallow flat. In the shallows, I prefer a deer hair popper that lands soft. I've found slow strips that move water but aren't noisy to be more effective.
Now is prime time to target trout in local water, but you will have to release them until Jan. 1. The season is closed in November and December. Anglers can keep four trout total, from 15 to 20 inches, with one over 20 inches being allowed. Whether you fish with flies, jigs or plugs, you have a great chance of success. Remember, trout should be handled with care and released quickly. Always wet your hands before handling them and revive them in the water until they swim off on their own.