Basketball season continues at Center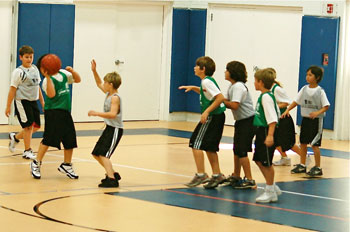 PHOTO/BECKY WALTERS Jessie's Mickey Koczersut goes for three
points, shielded by Air and Energy's Michael Latimer.
Another round of games took place this past week as basketball season continues at the Community Center. There are so many benefits for kids participating in youth sports, and it is amazing to watch as they develop the skills and realize their strengths and weaknesses.
It started early for Larry Bird who once said, "When I was young, I never wanted to leave the court until I got things exactly correct. My dream was to be a pro." And, while many of the young players here will not go on to be pros, they are definitely picking up some of the fundamentals that Larry Legend spent hour upon hour perfecting.
Dec. 15
Instructional Division
Beach Bistro 22, Sandbar 2
Coach Andy Procter has a team that knows the game very well. Most of his players have been here before and have picked up a necessary knowledge of how it all plays out. Beach Bistro is the team to beat in this division, but there are negotiations regarding a trade, so watch this space.
Division 3
Ross Built 17, Air and Energy 8
When a team is so busy defending that it can't seem to break free and the star player on the opposing side goes on a shooting spree there can be only one outcome. Jake Ross scored eight of his nine points in the second and third quarters, the time Air and Energy were defensively minded and couldn't offer anything in reply. George Lardas, Michael Latimer and Cameron Pasco had success early and late in the game but Ross Built was just too strong.
Premier Division
Rotten Ralph's 31, A Paradise 25
Ralph's Matt Bauer outscored A Paradise's Kyle Arrit by four points, 19-15, with three of those due to his steely nerve at the free throw line. A Paradise was high flying after the first quarter but that was the only time it would outscore its opponent, who sealed the deal with an exceptional fourth quarter flurry with Wyatt Hoffman, Daniel Janisch and Chandler Hardy getting in on the act.
Dec. 16
Division 3
Jessie's Island Store 14, Coastal Orthopedic 6
Jessie's Coach Koczersut has faith in her top two draft picks and will be pleased to see they are hitting the mark early in the season. Seth Walter and Mickey Koczersut combined for 12 of the 14-point total with Ellie Leibe sinking one late. Coastal Coach Wayne Sewall was left ruing missed chances but knows he has a decent squad and will do better.
Division 2
Panaramic 10, E-Training Solutions 9
E-Training had a chance to win this one in fourth quarter, but missed two free throws at the end that would have sealed it, leaving Panaramic Coach Julian Botero to breathe a sigh of relief.
Division 1
Island Family Physicians 31, Dips Ice Cream 30
In this ultra close contest that could have gone either way, both coaches will now analyze productivity beneath the basket. Dips chased the game from the offset with Island Family putting in an impressive first quarter, outscoring Dips by a six points. Dips Justin Gargett was the leading scorer with 17 points versus Daniel Pimental's 15. It was a feisty affair and other notables for Dips were Jerry Mayer and a respectable eight points from Kayla Armer on a tireless Island Family Physicians side.
Dec 17th
Instructional Division
Beach Bistro 14, Walter and Associates 6
Bistro coach Andy Proctor's musketeers were restricted somewhat throughout this encounter. Joey Stewart, Andrew Proctor and Aidan Grumley still managed to amass the 14-point total, aided and abetted by teammates. Six very resectable points for Walter and Associated came from William Bernet and Joseph Dylan.
Division 3
Ross Built 18, Jessie's Island Store 14
Jessie's coach Diane Koczersut was left wondering what happened after the team started all guns blazing, scoring 10 points in the opening quarter, but then going on to score only four more and getting shut out in the fourth quarter. Ross Built was the more consistent team that employed a methodical approach allowing Jake Ross to lead all scorers with 10 points. Andrew Ross had six and Connor Gsell had two.
Premier Division
Island Real Estate 36 , Bradenton Prep 26
Island Real Estate's Coach Pate has to be happy with this performance. Forest Schield led the team to victory with 19 points, five from seven at the free throw line. Joe Karasiewicz scored eight, five from Chris Pate and both Julian Botero and Trevor Bystrom hit the target. This was a solid team effort. Bradenton Prep's squad is no slouch and it did a good job trying to stay with the pace. Notables were Jason Shkodnic with 12 and Edward Brown with 10 points.
Dec 18th
Instructional Division
Sandbar 11, Walter and Associates 6
This is coach Raina Lardas' first season in charge and progress is being made. Dylan Joseph scored all six points for Walter and Associates. In reply it was Joe Rogers scoring a basket and a free throw with teammates Bo Armer and Madison Koczersut with four points each.
Division 2
Sand Dollar 12, Longboat Observer 2
Sand Dollar's Mikayla Kane is the rebound specialist that teams crave. Tall enough to make a difference beneath the basket, she has all the skills necessary to convert the gathered ball into points, eight this time around. Her teammate from last season, Lauren Sapienza, was on hand to contribute with four points.
Division 1
Fronius 29, Dips Ice Cream 22
Savannah Schield was top scorer for Fronius with 12 points, while Travis Belsito added nine against a Dips side that was decimated by illness, as two players did not suit up and three more played while sick. A late charge from Dips was not enough and that's now one and one for Fronius Coach Andy Jonatzke.
Dec. 19
Premier Division
A Paradise 53, Bradenton Prep 21
Bradenton Prep scored 21 points but were blown away by an A Paradise side that had obviously listened and reacted to whatever Coach Koszewski had said after its loss last time out to Rotten Ralph's. Kyle Arrit was on fire as he posted 25 points, only four more than teammate Troy Koszewski, who had an outstanding game.
Rotten Ralph's 37, Island Real Estate 27
There are some big hitters in this division and Ralph's Matt Bauer is one of them. Bauer led the team again, posting 19 points as Island Real Estate's Forest Schield proved his worth with 14. Rotten Ralph's leads the division and teams have to be careful they don't allow them to break away from the pack.