Jeweler sparkles on Bridge Street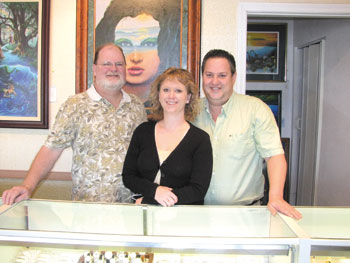 SUN PHOTO/LOUISE BOLGER Kevin Shonkwiler, Kassy Quinn and
Brad Smith provide a full range of services.
There's a new club on Anna Maria. To join you don't have to pay thousands of dollars in initiation fees, and you don't have to show up for meetings or learn a secret handshake. All you have to do is own an Anna Maria Island Destination Bracelet, and Bridge Street Jewelers is the only place to get it.
Brad Smith, the owner of Bridge Street Jewelers, discovered Anna Maria three years ago while he and his girlfriend, Kassy Quinn, were visiting friends on the Island. Smith is a master jeweler and gemologist with 25 years experience, 20 owning his own jewelry store in Pennsylvania.
During their two-month visit, they discovered an empty shop on Bridge Street and discussed how great it would be to open a jewelry store on the Island and stay. As fate will have it, a short time later they discovered there was already a jewelry story for sale two doors down from the empty shop they were looking at. Even the airlines played a role in their "it was just meant to be" decision by bringing them back to the Island after a long airport delay helping them to make their ultimate choice.
In September of last year, Brad Smith became a business owner on Anna Maria Island with the opening of Bridge Street Jewelers, the only fine jeweler on either Anna Maria Island or Longboat Key. Bridge Street Jewelers' inventory includes diamonds, precious and semi precious stones, gold and platinum jewelry, as well as antique and estate jewelry.
With the help of Kevin Shonkwiler and John Krake, both of whom have many combined years in the jewelry business, Bridge Street Jewelers is able to provide a full range of services to its customers. Watch and jewelry repairs, appraisals, cleaning, diamond settings, watch batteries and ring sizing are just some of the services provided by the experienced staff.
But what really sets Bridge Street Jewelers apart is the exclusive Anna Maria Island Destination Bracelet. The bracelet was inspired by Kassy Quinn's belief that people want to bring something home from vacation that is more Quinn and Smith combined their jewelry design background and experience and came up with a tropical design reflecting the nautical nature of the Island and containing the initials A.M.I. The bracelets, which are affordably priced, come in sterling silver with 14K gold or all gold with some having a diamond accent. They are being purchased by both men and women.
From the first day they were available the bracelets have been flying out the door. Everyone from brides purchasing them as gifts for their bridal party to full time residents and visitors have gone bananas over the bracelet. The popularity of the bracelet has now resulted in Bridge Street Jewelers developing an exclusive line of Swiss AMI watches, earrings, pendants and rings. And if you happen to live on or visit Longboat Key, Bridge Street Jewelers has designed a Longboat Key Destination Bracelet as well.
In keeping with Anna Maria's unique nature, Brad Smith has embellished the wall of the shop with coastal art purchased from private collections by Wyland and Jim Warren, which is all for sale. And don't miss the Swarovski crystal jewelry boxes scattered around the shop designed as crabs, fish, turtles and other sea creatures.
Woody Allen once said, "I would never want to belong to any club that would have someone like me for a member," but then Allen has probably never seen the Anna Maria Island Destination Bracelet or the Island's sunsets.
Bridge Street Jewelers
129 Bridge Street, Bradenton Beach
941-896-7800
10 a.m. to 5 p.m.
Monday through Saturday
12 p.m. to 5 p.m., Sunday
Visa, MasterCard, American Express, Discover