Louisana's land of giants
From the January 21, 2009 Issue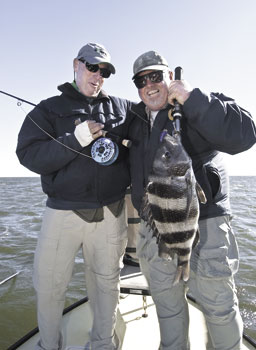 SUN PHOTO/RUSTY CHINNIS From left,
Captain Mike Locklear poses with Captain
Greg Arnold before releasing a sheepshead
in the Louisanna marsh country.
I had always heard of the great red fishing in Louisiana, but never had the opportunity to fish the state. That all changed one day last July when I was fishing with Captain Mike Locklear in north Florida. While we were on the water, we met Captain Greg Arnold, a guide who lives in New Orleans and fishes the marshes near the confluence of the Mississippi River and the Gulf of Mexico. Arnold invited Locklear to visit New Orleans and fish. About a month later I received a call from Locklear asking me if I wanted to join them. I jumped at the chance. Last week the date came due.
One of the pleasures of fishing this part of Louisiana is its proximity to New Orleans and the sights and sounds of the French Quarter. Locklear and I spent our first night there since Arnold was still hosting his previous party of anglers. We had a wonderful afternoon and evening and enjoyed the vibrant life of this famous city.
The following day, we moved into rooms at the home of the Arnolds. Anglers booking two days or more can stay at Arnold's comfortable home and get lodging and meals as part of the package. On the first day of the trip, we drove near the coast and had breakfast at Peggy's, a quaint restaurant where we enjoyed a delicious breakfast and the locals from the area. After ordering lunch we headed for Breton Sound where Arnold and his guides launch their boats.
The devastation of hurricane Katrina in no way influenced the outcome of our trip, but it was a sobering reminder of the power of nature and the ability of the local residents to recover and begin life again. As we launched the boat I couldn't help but look at the top of a nearby power pole and try to imagine the twenty two foot storm surge that had inundated the area.
We had arrived during a cold and windy spell but it didn't keep us from seeing massive redfish that had to push 50 pounds. In the morning I cast to and hooked a red that looked to be 35 pounds, but unfortunately, broke it off on the hook set. The winds made sighting and casting to fish difficult, but both Locklear and I had multiple shots and big reds. Locklear caught the fish of the day when he teased a big sheepshead to eat his fly when his leader was well into the guides.
To get an idea of the kind of fishing that is possible in this area of Louisiana, one only has to consult Arnold's log book. In the past 12 months, he has caught three redfish over 50 pounds, five fish over 40 pounds, 53 fish over 30 pounds, and 300+ fish over 20 pounds. Arnold has also guided his anglers to five fly rod world records on redfish including Conway Bowman's 41.65-pound fish on 20-pound tippet, Jim Smith's 33-pound 10-ounce fish on 8-pound tippet and Doug Behrman's three new world records on 8# tippet (34.8-pound), 4# tippet (28-pound), and 2# tippet (29.8-pound). Arnold's anglers have also accounted for several state records, including Bob Stafford's 37.8-pound redfish, a 41.1-pound red caught by Conway (which was also Louisiana's 2005 Fish‑of the Year), Tony Kirk's state record sheepshead of almost 8 pounds and Tom Stevenson's new state fly record Black drum of 56-pound (Louisiana's 2006 Fish of the Year).
The best part is that the fishing as well as the hospitality served up by Arnold and his wife are within an hour's drive of the sights and sounds of Bourbon Street. Arnold prefers to fish the Biloxi Marsh area from late fall until early spring because the majority of the fishing in this area is for spotted sea trout, not redfish. As a result, the redfish can be unpressured and take flies readily. This greatly enhances your chance to catch a trophy redfish.
The last day of fishing was very cold with no wind, which made the fish spooky. Unfortunately, the sudden cold snap had also negatively affected the fish, sending many to deeper water where we couldn't sight fish for them. We still had shots at some trophy fish including some 30-pound plus fish that started tailing late in the day. Locklear did manage to land a respectable black drum that put up a spirited fight on the shallow mud flat.
Anglers wanting to experience the sights and sounds of New Orleans and the beauty and diversity of the Louisiana marsh country will enjoy an adventure with Arnold. Besides you'll have an opportunity to cast to some trophy reds that we nicknamed "freighters." Arnold can be reached through his Web site at www.fishinthelandofgiants.com or by calling (504) 237-6742.