Trust your pet to beach vet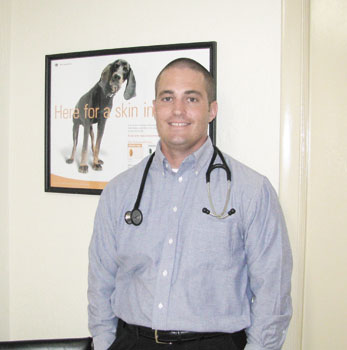 SUN PHOTO/LOUISE BOLGER
Dr. Luke Berglund of Beach Veterinary Clinic.
The lives of humans would be so much easier if animals could talk. Not only could they inspire us with their bias free view of the world, but they could also let us know where it hurts when they're not feeling well. Until the average human learns the language of animals, there are veterinarians who can thankfully translate our pets' needs and wants.

For more than 15 years the Beach Veterinary Clinic, located in the historic Cortez fishing village just off Cortez Road, has been helping our beloved pets. In January 2006, Dr. Luke Berglund purchased the well established practice.

Growing up on a farm in Iowa, Berglund loved animals but hated winters. After graduating from Iowa State University's College of Veterinary Medicine he and his wife, Amanda, decided to seek the Florida sunshine and relocated to Sarasota, where he worked for other veterinary clinics until he had the opportunity to purchase the Beach Veterinary Clinic. He and his young family, two little daughters Madelyn and Grace, are now well entrenched in the Florida lifestyle and are active in the local community.

In addition to Berglund, The Beach Veterinary Clinic also has Dr. Crit Holland available to help with your pet's needs and a large staff of assistants and technicians who have been with the clinic for many years. They offer all standard veterinary services, including general surgeries, boarding, grooming as well as products to purchase like heart worm and anti-flea treatments, shampoo and quality food. He has already changed the look of the clinic and plans on continuing to update the building as well as adding a new surgery suite and Web site to be on line shortly.

Berglund takes pride in his policy of trying not to turn anyone away and allowing time in his schedule for emergencies and client's work schedules. He says his job is to help you make the right decision when it comes to your pet's health, a decision that is sometimes not easy to make.

In what's left of his spare time, Berglund volunteers to perform cat and dog neutering for non-profit adoption and rescue groups in the area, and sits on the board of animal services for Manatee County. You can also listen to Berglund answer animal related questions at 1280 AM radio on Sundays at 3 p.m in the appropriately named show, "Pet Talk." Not to mention finding time to be a judge at last year's Dog Costume Contest, sponsored by The Sun.

Berglund may not be Dr. Dolittle, but he does have a degree in advanced animal speak. So the next time your little four legged friend can't tell you where it hurts, get over to the Beach Veterinary Clinic where they specialize in the language and love of animals.
Beach Veterinary Clinic
4404 124 St., Cortez
941-792-2838
Monday-Friday: 7:30 a.m. to 5:30 p.m.
Saturday: 7:30 a.m. to noon
MasterCard, Visa, American Express