Tricky dogs a hit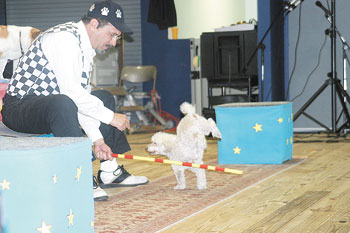 SUN PHOTOS/TOM VAUGHT PeeWee, a mixed breed
with a lot of poodle in her, jumps over the stick.
ANNA MARIA – Lucy finally got to be in Ricky's show after more than 50 years of trying.

No it wasn't "I Love Lucy," but when you have a dog show called Ricky's Tricky Dogs, there is a chance one of the pooches might get Lucy for a name.

Lucy was one of six small dogs featured in Rick Martin's show, and more than a hundred kids and their parents attended. While Martin was adept as a handler, it was the canines that stole the show.

Martin has been putting on this show for more than 10 years and he mixes education with the fun. One of the dogs did a "stop, drop and roll" maneuver, something kids are taught in case they catch on fire. He also put a little helmet on one of the pooches that rode a skateboard over a small ramp. One dog pulled the back of his pants and they fell down, leaving Martin standing there in polka dotted boxer shorts.

Martin opened the show by introducing the dogs – Chico, Twinky, Lucy, Peewee, Minnie and Ziggie.
"They were all dog pound doggies," he said, "I got them from the shelter."

Martin said that he got Twinky, a rat terrier, who was on the "do not adopt" list because the family that bought him said he bit their child.

"I asked them about the circumstances and they said he tried to bite the child who had reached for his dish while he was eating," Martin told the kids. "Twinky probably thought the child was trying to take his food away before he was finished eating."

It was a lot of fun for the kids, some of who had seen the show when it came to the Island Branch Library in the past. The Friends of the Island Branch Library sponsored the show, but they moved it to the Anna Maria Community Center's auditorium to accommodate the larger audience.

For more information on the Tricky Dog Show, log on to www.trickydogs.com.