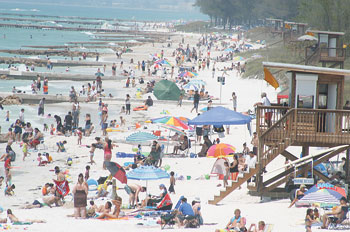 PHOTO/TOM VAUGHT Nice weather brought a lot of families to the
beaches on Easter Sunday and the heavy presence
of law enforcement kept some of the "bad guys" away,
a positive sign two years after a shooting incident
at Coquina Beach forced a lot of families to spend
the day elsewhere.
BRADENTON BEACH – It was a lovely Easter at the beach where violence scared away families two years ago and many say the reconfigured parking lot and an abundance of uniforms and badges are what kept away the bad guys this year.

That formula worked last year, when officers from several agencies and counties came together to discourage gang members from cruising through the parking area. It was gang members who were involved in the shooting two years ago that persuaded Manatee County Commissioners to institute reconfiguration, giving police more control over where people could drive and cutting short any length of road that could be used by gang members cruising.

This year, it was a quiet day. Police staged at an open area near the RV parking in the southern end of the parking lot and their plan was to make sure they were visible to those driving into the parking lot and by the families on the beach and at the picnic tables beneath the Australian pines. There were an estimated 50 to 60 officers and deputies on patrol.

Bradenton Beach Police, the lead agency in the multi-agency task force, made three arrests, the Mutual Aid Gang Task Force (MAGTAF) made three arrests and immigration and naturalization officers made two arrests. The most serious charge was against a juvenile who was caught with brass knuckles. Otherwise, there were arrests for possession of drugs and traffic-related offenses.
Bradenton Beach Police Chief Sam Speciale had praise for all the law enforcement personnel who worked so hard.

"It's nice to see all the families coming back to Coquina Beach after the past incidents," he said, "I'm glad the new parking configuration is working and we want everyone to feel safe in bringing their families to the beach on Easter and any day."

Bradenton Beach issued 17 traffic tickets, five code violations for loud stereos and seven parking tickets, according to a department count.
Family time
For those families at the picnic tables, it was a relief to see the police presence because that meant their day would not be interrupted by violence as it was two years ago. The Figueroa family, from Waumama and Ruskin, has been coming to the beach here for the past 20 years and they were enjoying some barbecue while their children played with the contents of their picnic baskets.

"I like the way they redid the parking lot," said one of the women who did not want to be identified. "It avoids the whole commotion. Before the shooting, you would hear about someone getting run over in the parking lot."

She said the appreciated the police walking past them on the multi purpose trail because they kept the gang members away.

"Those are people who have problems," she said, "but we're here with our kids."
The Trevinos live in Lakeland and they come to Coquina four or five times a year, calling it their escape from the fast Lakeland lifestyle.

"I like is here because it's safe and we have shade," said Sandra Trevino. "When we came this morning I was thinking if it looks too rough, we'll leave, but when I saw the police, I said good, we can stay all day."

She said that it didn't appear to be as crowded as Easters past. She said it was easier to find a parking spot and a picnic table than in previous years.

That sentiment was also expressed by lifeguards at the beach. Captain Joe Westerman said that they saw a bigger crowd Saturday.

"Maybe some of the spring breakers had to get home today," he said.

Lifeguard Collin Schmidt said they had to perform some rescues for kids who got washed into the rocks by the waves. Otherwise, they said it was a busy, but routine day.

The law enforcement officers and parks and recreation workers enjoyed lunch made by resident Tjet Martin and Bradenton Beach City Commissioner Janie Robertson.

There were no major problems at Manatee County Beach in Holmes Beach or Bayfront Park in Anna Maria.