Ginny, Jane E.'s new partners in paradise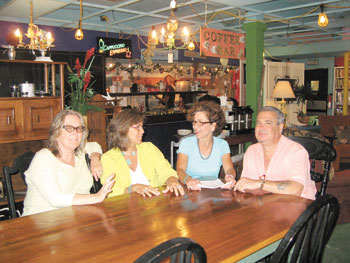 SUN PHOTO/LAURIE KROSNEY Ginny Dutton and Jane E share a
moment with their new partners, Roberta Schaefer and Jeff Levey.
ANNA MARIA — Things look exactly the same at Ginny's and Jane E.'s at The Old IGA, but behind the scenes, there are two new partners, Roberta "Bert" Schaefer and Jeff Levey.
"We are just thrilled. Bert and Jeff are our friends," said storeowner Ginny Dutton. "And this store is our baby. We wouldn't share it with just anybody."
Levey and Shaefer are also thrilled.
"We love Ginny's and Jane E.'s and we love this Island," Levey said.
"We don't plan to change a thing," Shaefer added. "The bakery will be the same, the coffee will be the same. Why change something that's so great?"
Sisters Dutton and Jane E. and Levey and Schaefer all stressed that the new arrangement is a partnership. The experience of walking into Ginny's and Jane E.'s will remain the same wonderful thing it is today. It'll just be that there are more partners to share the workload.
No changes in staffing are anticipated.
What will change is that the store will be open seven days a week now, and there may be extended hours on the weekends so that people can come in and browse or have a dessert in the evening.
With more partners, the workload for each person won't be as great.
'We even got to go away for a four-day weekend," Jane E. said. "It was wonderful."
Shaefer has a background in public relations, marketing and event planning in banking. Levey has enjoyed a 35-year career in management and design.
Both said they've fallen in love with the Island and are looking for a place to live here. In the meantime, they commute here from Apollo Beach.