Center summer camps focus on art and sports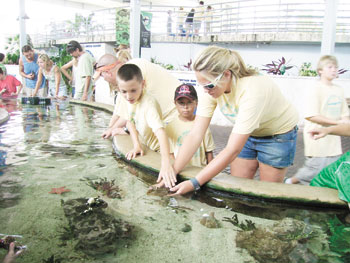 PHOTO PROVIDED | Last year, Center campers on a field trip
learned about sea creatures in the touch tank at Mote Marine.
Island youths will have a myriad of choices for summer activities in camps and classes being offered at the Island Community Center.
"The overall camp is called Summer My Way, and kids get to pick their summer activities," Education Director April Jonatzke explained. "In the past, we've had a theme for summer camp and it was all inclusive, but we always had kids who didn't want to do art or didn't want to do sports."
This summer, there will be two main camps – Creativity Camp, which focuses on arts and crafts projects and includes Tuesday movies at Oakmont 8 and Wednesday Fun Days, and Sports Camp, which includes fundamental development of the weekly sport plus fitness and nutrition.
However, kids can also enroll in specialty art classes, Spanish and reading or specialty sports camps. In addition, there's an optional field trip every Friday, as well as pre and post camps.
"Our goal was to give them choices," Jonatzke said. "They can take only the camps or only the classes or mix them up and they can come full or half days. Each family will have an individual activity and payment plan.
"How cool is it that they get to choose everything they want to do? I'm excited. I think it will be a lot of fun. Hopefully it will be a hit."
Camps, classes and field trips
The Creativity Camp will include beading/friendship, clay, dance, junk art, magazine crafts, musical instruments, painting, puppets/plays, story writing and watercolor.
The Sports Camp offers baseball, beach sports, Bud Stokes Junior Golf, flag football, indoor soccer, P.E. games, swimming and water-related activities, volleyball/pickleball, Wiffle ball and ultimate Frisbee/disc golf.
Specialty classes are story writing, scrap booking, stepping stones, cupcakes and Play Doh, under the sea/cartoons, Christmas in July, charcoal/ebony and wood burning. This category also includes a six-week Spanish, class and a reading program. Specialty sports camps are tennis, basketball, soccer and British soccer.
Center teens from seventh grade and up will be counselors in training for the Sports and Creativity camps. They will also enjoy teen program activities from 3 to 7 p.m. Monday through Thursday and special field trips.
Times and cost
The Creativity and Sports camps are held from 9 a.m. to 3 p.m. Monday through Thursday, and the cost is $60 per week. Specialty classes are held from 12:30 to 2:30 p.m. and the cost is $30 per week. The cost and times of the specialty camps vary depending on the sport.
Friday field trips are roller skating, GWIZ, Chuck E. Cheese, bowling, Bounce U, water fun day at the Center/beach, and MOSI. Times vary and the cost is $20 per field trip.
Pre Camp is held from 7 to 9 a.m. and Post Camp is held from 3 to 6 p.m. The cost is $5 per week for each.
Register now
Summer camp runs 10 weeks beginning June 8 and ending Aug. 14. Children going into kindergarten will be admitted on a trial basis, and the upper age limit is kids going into sixth grade.
The ages for the sports specialty camps vary depending on the sport. Age groups for Spanish are 6 through 10 and 10 through 16 and for the reading program are grades 1 through 3 and grades 4 through 6.
Camp registration is ongoing at the Center, 407 Magnolia Ave., Anna Maria. There is a $30 registration fee for non-members of the Center. The Sports and Creativity camps offer a 5 percent discount for a five-week registration and a 10 percent discount for a 10-week registration.
For further information, call April or Andy Jonatzke at the Center at 778-1908.
Center camp registration schedule
There will be two locations for the Center's summer camp registration and information – Anna Maria Elementary School (AME) picnic tables and the Community Center (AMICC). See the chart below.
Parents should bring the booklet that they received in their child's folder from school. Registration fees and some specialty camp fees are due at time of sign-up. Payments are suggested at the time of registration in order to save your spot for the weeks you choose.