Bridgeport balconies offer Gulf and bay views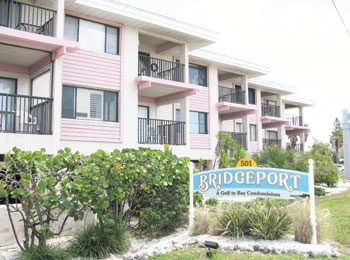 SUN PHOTO/LOUISE BOLGER One of the major amenities at Bridgeport
is the deeded beach access across Gulf Drive that is
owned by the association for its residents.
You've probably driven by it hundreds of times on your way on or off the Island and may have even wondered what exactly those pink buildings at the foot of the Cortez Bridge are all about. Well, I've also driven by innumerable times and finally decided to take a closer look.
Bridgeport condominiums in Bradenton Beach were built in 1982 and are perfectly named with the Cortez Bridge in the backyard and the Gulf of Mexico at the front, or as their signs says, A Gulf To Bay Condominium. The units are comprised of an open floor plan with two bedrooms and two baths totaling about 1,100 square feet, all with balconies. There are two buildings at Bridgeport, one on the Gulfside and a smaller one on the bayside totaling 40 units. Some of the balcony views of the Gulf are spectacular with amazing sunsets Some balconies are on the side of the building on the Gulf side and some of the balconies have lovely bay views in the back building.
There is a heated pool, elevators, interior laundry and under building parking. One of the major amenities at Bridgeport is the deeded beach access across Gulf Drive that is owned by the association for itsdresidents. In addition, there is a trolley stop nearby and, of course, a short walk to the shops, festivals and restaurants on Bridge Street.
Naturally, Bridgeport has not been immune to the real estate downturn with only two sales in the past year. One sale was in January 2008 closing at $350,000 and the other closed in January of this year for $265,000. There are currently four on the market, most of them furnished, with prices ranging from a high of $399,000 to a low of $248,200.
The assortment of prices reflects the unit's location within the complex, and both closing and available figures are as of this writing.
It's been a long time since we saw waterfront condo prices in this price range on the Island an indication to me this could be a buying opportunity. In addition, seasonal rentals are available with monthly winter rentals asking about $3,500 and summer monthly about $1,900, making Bridgeport a good investment option.
Bridgeport is one of those places that has so perfectly blended into the landscape of the Island that most of us don't even notice it when traveling over the Cortez Bridge. Nevertheless, it is one of those older associations that was built in one of the best island locations – surrounded by water and golden sunsets.