Feeling Swell under new ownership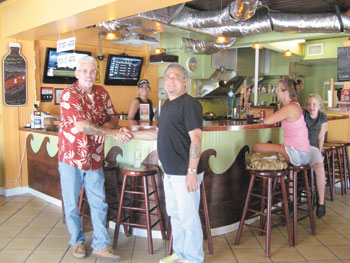 SUN PHOTO/LAURIE KROSNEY Feeling Swell has changed hands.
Shown here shaking hands are new owners, Ken Columbia,
left, and Jeff Levey. Also shown are bartender Trish Paliscak
and patrons Christa Dunn and her daughter Hannah, 9, who are
visiting the Island from Bluefield, Va.
ANNA MARIA — Look for a new menu featuring quality burgers at Feeling Swell.
The restaurant on Gulf Drive has changed hands, and new owners Ken Columbia and Jeff Levey have some changes planned.
"We're going to offer a full line of really good burgers," Columbia said. "We'll have bison burgers, veggie burgers and, of course, burgers from high quality beef."
Columbia and Levey said the polled people to see what they'd want, and everyone wanted to be able to get a good burger at the north end of the Island.
"We'll also offer fries since everyone said they wanted that, too," Columbia added.
The new fryer has been installed, so restaurant patrons can get fries with their burgers or tater tots or jalapeno poppers.
A product akin to the funnel cakes called funnel fries will be available for people to sample as well.
There will be low-key music inside the restaurant itself on weekend nights.
"It'll be live music, but it'll be quiet enough that people can hear each other talk, and it'll be inside so there won't be an impact on the neighbors," Levey said.
The surfboard and paddleboard rental side of the business is probably going to go away.
"It just hasn't been profitable," Columbia said.
Some of the boards will be sold and others will be used in the decor at the restaurant, which may ultimately have a new name.
The new partners also plan to put fans and misters in the outside dining area so it'll be cool and pleasant out there even in the summer. A fence will be placed out there so that people going to the patio area must enter through the restaurant itself.
"We wanted to make sure we don't have a negative impact on our neighbors, and this way, no one will be cutting through residential yards to get to the patio," Columbia said.
Levey is also a partner in Ginny's and Jane E.'s.
"We want to appeal to the locals and the visitors," Levey said. "We plan to keep the restaurant family oriented, and we'll offer the same great food and ambiance that people have come to love at Ginny's."
The partners plan to capitalize on the economy of scale that will naturally flow from ordering provisions for both venues.
Feeling Swell, located at 9903 Gulf Drive, is open from 11 a.m. until midnight or so seven days a week. The phone number is 941-896-7879.