Season's first turtle nests hatch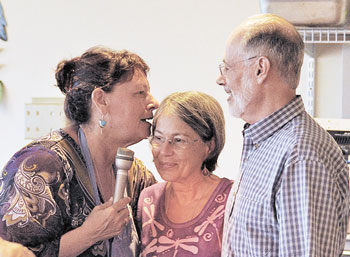 PHOTO COURTESY AMITW PHOTOGRAPHER JOHN YOUNG
Turtle Watch Director Suzi Fox whispers congratulations
to Sadie Award winners Emily and Pete Gross
Saturday night at the annual mid-season banquet.
Turtle volunteers had a busy week with mother turtles coming ashore to nest, the first hatchlings emerging, the annual mid-season AMITW banquet and the announcement of the 2009 Sadie Award recipients.
This year's Sadie Award went to Emily and Pete Gross.
"They haven't been volunteering with us all that long, but their contribution has been enormous," Anna Maria Island Turtle Watch Coordinator Suzi Fox said when making the announcement at the banquet at the Moose Lodge in Bradenton Beach. "They are always willing to go above and beyond, and they find ways to help out in areas where we didn't even help out in areas where we didn't even know we needed help."
The Grosses were featured in the July 8 edition of The Sun. Their contributions to Turtle Watch include coordinating a section of beach and designing user-friendly programs that have streamlined data collection and organization, which is one of the primary responsibilities of the group.
"We never expected this," Emily said. The Sadie Award is named for a loggerhead female that attempted to nest at Coquina Beach during the summer of 1999.
"She crawled up one side of one of the groins there," Fox said. "She got to the top and fell over the other side."
The fall cracked the turtle's plastron, which is the under shell. Sadie was loaded into a truck and taken to Mote.
"All the staff there was working on manatees that week, so they couldn't help because of cross contamination," Fox recounted. "We had to do everything for Sadie. They stood over us and said to take the needle and draw some blood from her neck. It was scary, but we did it."
Sadie was full of eggs, which is something that would be expected of a female coming ashore during nesting season.
"We had volunteers with her all night catching the eggs and rushing them to Coquina Beach to bury in the sand," Fox said.
Sadie's plastron was ultimately repaired. She healed and was released back into the wild about a year later.
"We decided that if she could make the effort to heal and save herself, we could also make the effort to save our Island turtles," Fox said. "So we named an award after her and have awarded it annually ever since to a volunteer who also shows extraordinary dedication."
Past recipients have been Ed Sterba, Bud and Gretchen Edgren and the George family, among others.
First nests hatching
Three nests had hatched as of July 17, with a total of 298 hatchlings making it into the sea.
The first nest to hatch on the Island was also the first nest laid. It hatched last Tuesday night. It was located in front of Martinique North.
"Unfortunately, we had a problem with some lights in Martinique South," Glenn Weisman, an AMITW volunteer said. "The lights drew the hatchlings away from the water, but we think we got them all safely collected and released into the Gulf."
The lighting problem was documented and reported to Holmes Beach Code Enforcement Officer Nancy Hall.
Weisman checked on the nest earlier that evening, and when he noticed a small depression forming in the center of the nest, he decided to keep an eye on it. He called the Grosses who live in Martinique North so they could also monitor the nest.
"We saw it hatch," Emily Gross said. "You can see why they call it a boil to describe a hatching. The baby turtles look like they're boiling out of the nest. They all scramble out at the same time. It's awesome."