Local singer adds to her fan base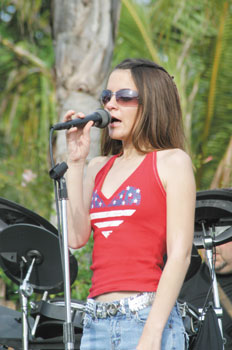 SUN PHOTO/TOM VAUGHT
Danielle Hollobaugh, vocalist for the band
HWY 41, entertained at the final Bridge
Street Market of the season on July 3.
BRADENTON BEACH – The hot sun beat down on the crowd that gathered at the Bridge Street Market on July 4, but they stayed to listen to the dynamic, passionate voice of a local rising star.
Danielle Hollobaugh, 21, of Bradenton, has made several appearances on Anna Maria Island since she teamed up with the band named HWY 41, but her first appearance was several years ago at Anna Maria City Hall.
"It was a 'no television' night," she said, referring to a talent show about five years ago organized by Anna Maria residents. She earned a long applause from the crowd of people who shunned their television sets for the night in order to listen to singers, joke tellers, musicians and even a shanty or two.
Danielle is blind, but that doesn't stop her from performing. She's been singing since she was six years old.
"I began performing at a camp at the Florida Studio Theatre in Sarasota," she said. "My parents signed me up for a talent competition sponsored by "Family" magazine.
"After my first competition, I did Showcase Nashville and won it," she said. "Then I competed in Los Angeles and Las Vegas and finished in the top percentage of them."
In January, she signed up with HWY 41, whose drummer is Dave Russell, owner and manager of the Rotten Ralph's restaurants in Anna Maria and Bradenton Beach.
"I sing my own songs, including some that I wrote," she said. "I really enjoy working with them."
While music is a big part of her life, she has other interests as well.
"I enjoy swimming at the YMCA and I have a green belt in karate," she said.
But when she's not singing, she also enjoys writing music.
"I have to be inspired when I write," she said. "Sometimes a melody just pops into my head and I think of lyrics that go along with it."
She sings with emotion, whether it's hard rock or a love song, and she knows how to use her distinctive voice. She said she's used to singing in front of crowds.
"I wasn't nervous the first time I sang, but that's probably because I was too young to be nervous," she said. "I get a little nervous now, if I'm singing in front of a lot of people."
She said she enjoys applause and support from the people who listen to her, which is something she will be getting a lot of as long as she performs live.
She has a Facebook page and her songs are on www.myspace.com/daniellehmusic as well as her own website at www.daniellemusic.com.
She has recorded six songs in a studio and is shopping, but so far she hasn't gotten a label to take her to the next step. For now, she's happy that she's singing with HWY 41, and it's apparent by the reaction she got at the Bridge Street Market that a lot of people are too.