ArtsHOP delivers inspired weekend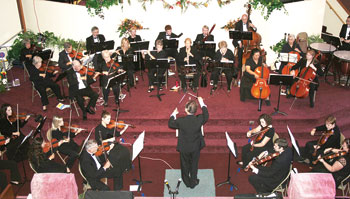 SUN PHOTO/MAGGIE FIELD Above, The Anna Maria Island
Community Chorus and Orchestra performed "An Afternoon
of Classics" at Crosspointe Fellowship.
Eight galleries with eight distinct personalities welcomed visitors during the third annual ArtsHOP Gallery Walk on Friday evening, which launched a three-day celebration of the arts on Anna Maria Island focused on The Doors.
In a remarkable case of art imitating life, or perhaps life imitating art, an informal group of musicians with no name gathered outside the Artists' Guild Gallery in Holmes Beach and started to jam, bluegrass style. Their standup bass player just happened to be standing near one of the painted doors that would be auctioned off later in the weekend, and featured, of all things, a standup bass player.
The Guild also hosted an opening reception for its November featured artist, photographer Patsy Hall, and counted an unexpected 683 visitors - and one cat – coming through the door.
The Anna Maria Island Art League in Holmes Beach debuted its exhibit, "Doors," about entrances, portals and passages, and appropriately featured art both indoors and outdoors, to the 50s and 60s music of Electric Myakka under the trees. Mixed media artist Jo Proletti took the Best of Show from the exhibit for her "Faeries at the Gate."
Island Gallery West in Holmes Beach hosted a reception for stained-glass artist Susan Oberender and mixed-media artist Cecy Richardson, the featured artists for November, with an outdoor demonstration of silkscreen monograph-making by Shirley Rush Dean.
A short jaunt down the Island at The Studio at Gulf and Pine, the atmosphere was quietly elegant, with a travelogue of Italy filmed from the air featured in one gallery, and the Fall 2009 Exhibition of Florida Artists displayed in plenty of space, drawing attention to each piece.
Nearby at Ginny & Jane E's in Anna Maria, the musical mood was set by Rod Stewart singing standards from World War II. Friends sipped coffee and compared notes on their babies napping nearby in strollers, while browsers examined painted vintage furniture and more silent auction doors.
Holiday shoppers enjoyed the handmade gifts available at Emerson Quillin in Holmes Beach, which features cards, T-shirts and other items with original, wry illustrations. Quillin decorated his auction door with one of his signature dogs sitting next to a tennis ball. Artshoppers also crowded The Tide and The Moon Jewelry Shop in Holmes Beach, which features sterling silver jewelry, and Front of the Back Alley in Bradenton Beach, a combination arts and coffee shop.
Some used the free Island trolley to visit the venues, sample refreshments, music and art and get their gallery passports stamped in exchange for a coupon worth 20 percent off dinner at the Sandbar, BeachHouse or Mar Vista restaurants and a chance at a drawing for a $150 arts supply basket from Keeton's Office and Art Supply.
Plays, concerts and classes
The art galleries weren't the only diverse personalities of the event; a one-woman show opened at the Island Players starring Kelly Wynn Woodland in "The Search for Signs of Intelligent Life in the Universe," a multiple-personality play made famous by comedienne Lily Tomlin.
"Kelly's performance on Saturday night was mindboggling," said Joan Voyles, of artsHOP sponsor Anna Maria Island Cultural Connections, complimenting Woodland's rapid-fire delivery and the deft way she switched between the different personalities Tomlin made famous, including a bag lady and a New Age wife and mother.
Another impressive performance was delivered on Saturday by Betsy Smith at the Anna Maria Island Historical Society Museum, where she tested the brain power of intrepid spectators by demonstrating traditional palm frond weaving and pine needle basketmaking. Even at her slowest speed, her fingers were a blur as they whipped through the soft, green palm leaves, folding and braiding them into decorations fit for a holiday door wreath display.
On Saturday night, the museum was transformed into a 1950s dance at the Anna Maria Island Historical Society Jail House Rock Sock Hop. Set in front of the Anna Maria City Jail, about 60 hoppers danced to live music provided by museum Director "Rockin'" Rob Roberts, who inspired Historical Society President Thea Kelley and her husband, Bill Bowdish, to win the twist contest.
Sunny skies, wonderful weather and nouveau hippie band Patchouli were the backdrop for holiday shoppers checking items off their list at the Anna Maria Island Butterfly Garden Arts and Crafts Festival at Holmes Beach City Hall Field on Saturday and Sunday.
On Sunday afternoon, the Anna Maria Island Community Chorus and Orchestra performed its eagerly-awaited first concert of the season at CrossPointe Fellowship Church in Holmes Beach. "An Afternoon of Classics," including Beethoven's Choral Fantasy and Symphony #1 in C, Boccherini's Cello Concerto and Vivaldi's Bassoon Concerto in E Minor, was appreciated by a nearly full house.
At Sunday night's silent auction of 31 decorated doors displayed in the courtyard of the Art League, young artist Elise Ellis, 8, delighted art lovers by selling her napkin art works for $1 apiece. Island artist Barbara Hines purchased "Hearts on a Green Napkin" to help give her a good start.
Silent auction winners were thrilled with their doors, while others won tickets to the Manatee Players, the Island Players and the Anna Maria Island Community Chorus and Orchestra, signed prints by artist Joan Voyles, Island prints and T-shirts donated by the Anna Maria Island Historical Society, jewelry from Restless Natives, a book from The Hive, an Anna Maria Island Butterfly Garden memorial brick and gifts from The Color of Coconut.
But everyone came away from artsHOP with something – a new bit of knowledge, inspiration for a new project, and the enjoyment of a fun-filled weekend with friends.
"Sometimes the vision and the reality don't quite equate," said Marsha Bard, who spearheaded the event. "Then sometimes the reality exceeds the vision, as is the case with 'The Doors.' "
ArtsHOP sponsors included A Moveable Feast, Anna Maria Island Art League, Anna Maria Island Artists' Guild, Anna Maria Island Community Chorus and Orchestra, Anna Maria Island Cultural Connections, Café on the Beach, Chiles Restaurant Group, Emerson Quillin, Front of the Back Alley, Ginny & Jane E's, Island Gallery West, J and J Graphics, Keeton's Office and Art Supply, Slim's Place, SteamDesigns, The Studio at Gulf and Pine, the Sun House and The Tide and The Moon Jewelry Shop.