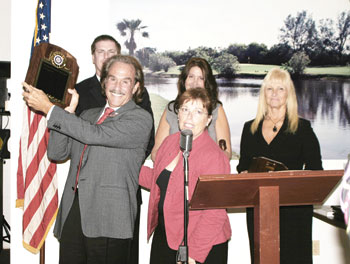 Island resort owner David Teitelbaum was awarded the
Rotary Club of Anna Maria Island's 2009 Businessperson
of the Year award by Rotary President Judy Rup.
HOLMES BEACH – With the streets of Anna Maria Island already getting fuller with seasonal residents, it was a perfect time for the Anna Maria Island Chamber of Commerce to swear in its leadership, remember the past year and prepare for the upcoming season.
It was a full house at the Key Royale clubhouse for the Chamber's installation banquet. As Mike Sales sang hit tunes in the background, the talk before dinner was about the coming year, Anna Maria being named one of the top family vacation islands in the world by Islands magazine and how most of the Island businesses had survived the recession.
Manatee County Commissioner and former Bradenton Beach Mayor John Chappie swore in the Chamber board of directors for 2010. After three years as chairman of the board, Mark Davis turned over the gavel to Cindy Thompson.
Thompson, who has organized Bayfest for several years, came to the Island 20 years ago and became a Chamber member 14 years ago, when she opened her first business, Paradise Bagels, now known as Paradise Café and Catering.
Rotary Club of Anna Maria Island President Judy Rup presented Tortuga Inn, Tradewinds Resort and SeaSide Resort owner David Teitelbaum with the Rotary's businessperson of the year award.
"I love the Chamber, and I love this Island," he told the applauding crowd. "I am absolutely flabbergasted."
Next came the businesses of the year awards. The candidates for small business were The Tide and The Moon, Tropic Isle, Anna Maria Fun Map, Anna Maria Beach Cottages and Melinda's Café and Catering. The Tide and The Moon owner Laura Sheley accepted the award.
Medium sized business candidates were the White Egret, Mike Norman Realty, the Islander newspaper and Anna Maria Gulf Coast Rentals. Owners Barb and John Jaeger accepted the award for the White Egret.
The large business nominees were the Chiles Group, Air and Energy and LaPensee Plumbing. Ed Chiles accepted the award for his businesses.
Chamber President Mary Ann Brockman thanked the committee, consisting of Ellen Aquilina, Wende Webb, Amy Van Dell and Lois Gift, who chose the winners.
As Mike Sales resumed singing, Teitelbaum took the microphone and sang a few songs. Barbara Murphy joined him for a harmonious duet and some laughs.