Soccer champions are crowned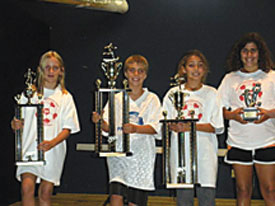 Left to right, Division 2 winners, Morgan Burns,
Kenny Randall Sportsmanship award; Dylan Joseph, MVP;
Maya Sapienza, Most Outstanding Female; and
Emma Moneuse, Officer Pete Lannon Goalie of the Year.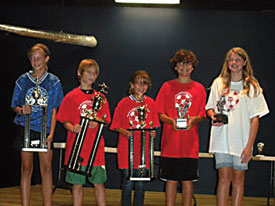 Left to right, Division 1 winners Sydney Cornell, Most
Outstanding Female; Jake Ross, MVP; Emma Peery,
Sportsmanship award; Keegan Murphy, Goalie;
and Mikayla Kane, Goalie;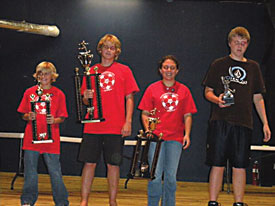 Left to right, Premier Division award winners, Michael
Duffman, Sportsmanship award; Trevor Bystrom, MVP;
Molly Stoltzfus, Female MVP; and Max Miller, Goalie.
The 2009 Center soccer season came to a close on Saturday, Nov. 14, with a full day of championship and All-Star games played. After an intense three-day playoff schedule, three teams surpassed all competition and were named playoff champions. Mike Norman Realty had an upset victory over Harcon Corporation in the Premier Division, despite Harcon finishing the regular season in first place. Ross Built capped a first place finish in the standings with a win over Autoway Ford in the Division 1 championship game. Sandbar completed a dream season with a comeback victory to beat Panoramic in the finale, as the team finished unbeaten throughout the year. The Division 3 group of 6- to 7-year-olds competed in a double-elimination tournament to finish the season as well. Jessie's Island Store won in the championship game giving West Coast A/C its first loss, however, both teams decided against playing an extra game and to share the title of co-champions.
Nov. 14
Premier Division championship
Mike Norman Realty 9 - Harcon Corp. 3
Chandler Hardy had a well-timed career best game by scoring an unprecedented eight goals and single-handedly leading his Mike Norman Realty team to victory in the championship game. Hunter Parrish also chipped in with a goal in the upset win over Harcon Corporation, which finished the regular season in first with a 9-1-1 record. Michael Duffman had a pair of goals, and Trevor Bystrom, who won the league's MVP award, also had a goal in the season-ending loss.
Division 1 championship
Ross Built 4 - Autoway Ford 2
Ross Built spread the goal scoring wealth as Gavin Sentman, Jake Ross, Andrew Ross and Emma Peery each had one goal in the victory over Autoway Ford. Michael Latimer managed to kick in two goals for his team, but no other offensive support, and a tough Ross Built defense shut down Autoway Ford. Ross Built capped off a 10-2 first place finish in the regular season and defeated Mr. Bones BBQ and Autoway Ford in the playoffs to be crowned champions.
Division 2 championship
Sandbar 3 - Panoramic 1
An impressive three-goal effort by Jason Partridge allowed Sandbar to come-from-behind and defeat Panoramic in the championship game. Sandbar completed the year with an undefeated 10-0-2 record and beat West Coast Surf Shop and Panoramic in the playoffs. League MVP Dylan Joseph scored for Panoramic giving itan early lead, but that was last of the offense for the team.
Division 3 championship
Jessie's Island Store 3 - West Coast A/C 2
Individual goals by Daniel Fritz, Elisabeth Laviolette and Tuna McCracken and a clutch defense allowed Jessie's Island Store to beat West Coast A/C in the championship game. West Coast A/C's Jaclyn Schlossberg scored twice in the game to lead her team. The defeat gave West Coast A/C its first loss in the double-elimination tournament, but the coaches and players of both teams chose to both be league champions instead of playing a fifth game in three days for the young players.
Division 1, 2 and Premier playoffs
Thursday, Nov. 12
Division 1 Playoffs
Autoway Ford 5 - Wash Family Construction 0
Michael Latimer scored all five goals in a shut-out victory for Autoway Ford, advancing it to the championship game.
Premier Division playoffs
Mike Norman Realty 8 - Wash Family Construction 3
Chandler Hardy had six goals with Morgan Greig, and Harrison Franke also scored once. Austin Wash had two goals, and Olivia Roemer kicked in another for Wash Family Construction.
Friday, Nov. 13
Division 2 playoffs
Sandbar 2 - Sparks Steel Art 1
Sandbar had one goal from Christian Daniels and Jason Partridge to beat Sparks Steel Art, which had one goal by Emma Moneuse.
Division 2 Playoffs
Panoramic 4 - West Coast Surf Shop 1
Dylan Joseph kicked in three goals to lead his team, with Joey Altuchoff also scoring once. West Coast Surf Shop received its goal off the foot of Aidan Grumley in the loss.
Division 1 playoffs
Ross Built 5 - Mr. Bones BBQ 0
Gavin Sentman scored twice with Emma Peery, Andrew Ross and Jake Ross each chipping in with a goal in the shutout victory over Mr. Bones BBQ.