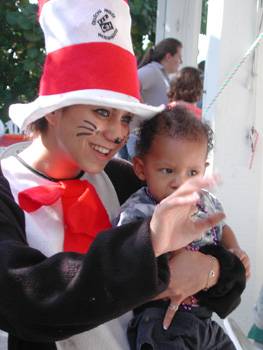 SUN PHOTO/PAT COPELAND
The Cat in the Hat, aka Candace Johnson,
helps Preston Cole wave to his mother at
the Chiles Christmas for Kids held at the
Sandbar restaurant Dec. 15.
ANNA MARIA – They ran, they laughed, they played – 120 children from the Head Start program and Healthy Families Manatee gathered at the Sandbar restaurant for the 15th Annual Lawton Chiles Christmas for Kids.
The event, sponsored by the Chiles Group, was held in the restaurant's pavilion last week to a backdrop of perfect weather. Children, encouraged by a bevy of volunteers, dug for buried treasure in the sand, giggling as they unearthed toys, while others fished in the fishpond or threw beanbags for prizes.
A crowd surrounded clowns Snow Bird and Sparky as they twisted colorful balloons into fun shapes. Costumed characters such as Spiderman, Blue Dog and the Cat in the Hat strolled the area hugging the children and posing for pictures.
Children had their faces painted or made artwork with stickers and glitter before the tables were cleared and costumed elves served a finger food lunch of French fries and chicken tenders.
Then a commotion erupted as the jolly fat man in the red suit arrived, walking through the crowd greeting the children with his hearty ho, ho, ho. He then settled in his chair in the gazebo to dispense bags of gifts to the children. Each child's family also received a food basket with a complete turkey dinner and all the trimmings.