Fishing in a winter wonderland
From the December 16, 2009 Issue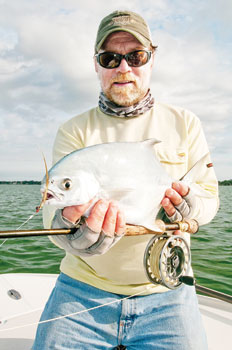 Captain Rick Grassett shows a pompano
caught near City Island. PHOTO/RUSTY CHINNIS
December can be one of the "hottest" months for fishing the waters in south central Florida. The fishing opportunities create an angler's winter wonderland. Seasonal runs of Spanish mackerel, kingfish, bluefish, cobia, pompano and a host of other species make the holiday season a boon for locals and visitors alike. A week ago, I had the pleasure of experiencing some terrific action on big bluefish and pompano with my friend and Sarasota guide Captain Rick Grassett.
Originally I had contacted Grassett about targeting cobia in Tampa Bay, but when conditions weren't favorable, he suggested we fish Sarasota Bay for pompano. The day before our trip Grassett had received a call from Captain Steve Gibson, www.kayakfishingsarasota.com, who had landed an astounding 50 pompano on fly tackle near downtown Sarasota. That was enough for a quick change of plans and a rendezvous at 7 a.m. on City Island. We made the run to the east side of the bay and began a drift on deep grass that was interspersed with white sand holes.
Almost immediately, I hooked up with a big bluefish that promptly bit through my 20-pound leader. Grassett also connected with a bluefish that stayed attached and which we photographed and released. Since I knew there were pompano in the area, I was reluctant to use a heavier leader, but Grassett quickly convinced me otherwise when he landed a pompano on the next cast. He suggested using a 30# or 40# fluorocarbon leader when there are a mix of fish like bluefish and ladyfish. He has even used wire when the blues were ravenous and still landed pompano. For four hours that morning, we caught and released 15 pompano and a handful of blues on one of Grassett's favorite flies, the Clouser Minnow. These flies are perfect, as they can be tied in bright colors with material like Ultra Hair. These flies also hold up better than other flies when they get attacked by bluefish and lady fish. One of Grassett's favorite colors is a bright pink.
Pompano can be targeted from Anna Maria Sound to Sarasota by looking for grass flats with deep water and good tidal flow. Drifting is a great way to locate feeding fish. This is mostly a blind casting exercise, but anglers should always be alert to birds, feeding fish, skipping pompano or any disturbance on the surface. All the aforementioned species will take flies as well as jigs, and live bait. When fly fishing, Grassett uses a sink tip or an intermediate sinking line. It's not important to use a long leader – nine feet is fine.
If you're fishing with conventional tackle, try artificials like the DOA Cal Jig or a Doc's Goofy Jig. Either rig can be made even more effective with a fly trailer tied about three feet behind the jig. Both Grassett and I agree that you'll catch more fish with jigs and flies than live bait. Part of the reason is that you can cover so much more area with jigs and flies. Start in water about three feet deep and work your way towards deeper water. Often the edges of deep grass will concentrate the fish and a casting along the edges will maximize your chances. Vary your retrieve and fish the water column from top to bottom. Give any flat a good look because conditions change constantly.
During the first hour that morning bluefish were predominant with a few pompano mixed in. Later in the falling tide, the bluefish all but disappeared and we caught mostly pompano and an occasional ladyfish. Interestingly, we didn't see a trout all morning on a flat that is known for good trout fishing. It seems that when a flat is invaded by certain species, they chase the other fish off! When the tide slacked, the action dropped off, and several anglers left the area. Grassett knew better, and we had a sandwich and relaxed until the tide started back in. The last hour we fished was the most action packed. The pompano were so thick that one actually jumped into Gibson's kayak.
This is a perfect time to try your luck with pompano (and other species) on local flats. If you want an introduction to tackle and technique, I highly recommend a trip with one of the area's top notch guides. Captain Rick Grassett can be reached at 941-350-9790. Anglers fishing Anna Maria should check with Island Discount Tackle, www.islanddiscounttackle.com, at 941-779-2838. Don't miss one of the best times of the year. Take advantage of our fishy winter wonderland! Happy holidays.