East meets West at Alchemy Acupuncture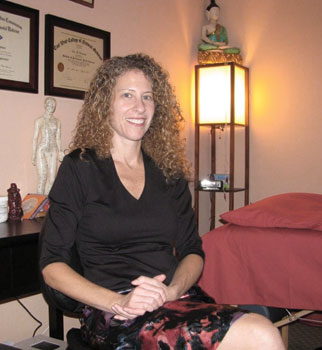 Dr. Lisa Grossman is an acupuncture physician,
psychotherapist and herbalist.
SUN PHOTO/LOUISE BOLGER
The human body is a mystery. Sometimes it responds predictably and sometimes it eludes traditional treatment. If you believe that the body is comprised of more than bone, tissue and fluids, then you may also believe in the ancient Chinese theory of Qi and be open to more non-traditional methods of healing.
Qi is the belief that the body has a natural energy flow that runs along meridians throughout the body. If one or more of these natural patterns of channels becomes blocked or unbalanced the result could manifest itself with a variety of physical symptom.
Lisa Grossman, DOM, AP, LCSW is a board certified acupuncture physician, psychotherapist and herbalist. Grossman started her medical career as a psychotherapist, graduating with a master's degree in social work from the University of Wisconsin-Madison. She practiced for 25 years, 10 in Massachusetts, before earning her degree in oriental medicine from the East West College of Natural Medicine and establishing Alchemy Acupuncture. Dr. Grossman became interested in oriental medicine through personal experience and believes her diverse educational degrees compliment and balance each other providing her with unique skills.
When a patient initially visits Dr. Grossman she will compile a comprehensive physical history. A review of eating habits, lifestyle choices, activity and stress levels are addressed, and a recommend course of treatment suggested. She attempts to get to the root of the problem that is creating physical pain. In addition, she has a comprehensive herbal pharmacy where she can merge and design herbal blends based on individual needs.
And if you don't like needles, Grossman promises that the ultra fine acupuncture needles do not hurt and in fact the treatment makes you feel more relaxed. Most patients feel better able to focus after a treatment and are calm and at peace.
Some of the common health problems that Alchemy Acupuncture can help you with are allergies, depression, gastro-intestinal, migraines, arthritis, pain management, infertility, weight loss and quitting smoking.
Her goal is to use her training and education to blend traditional Western medicine with Eastern principals in order to provide a high degree of health care for every member of the family. She says it's not necessary to live in pain, and people should consider oriental medicine, not as a last resort, rather as another treatment choice.
Grossman says she feels honored doing this business every day and is personally gratified to be helping so many people who had previously given up. She is expanding her practice with the opening of a new location on Longboat Key this month in order to provide easier access to her Longboat Key and Sarasota patients.
Take the mystery out of what ails you, fine tune your psyche and open up the Qi flowing through the meridians of your body. Alchemy Acupuncture and Grossman will explain it all. Let her be your guide to a healthy new life.
Alchemy Acupuncture, Psychotherapy and Herbal Pharmacy
501 Village Green Parkway, Suite 4
Bradenton, FL. 34209
941-779-7443
www.alchemyacutherapy.com