Group is for the birds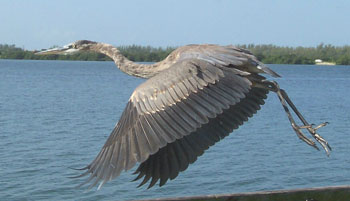 SUN PHOTOS/CINDY LANE Great blue herons are among
the birds counted during Audubon's 110th Christmas
Bird Count last week.
BRADENTON BEACH – Something small and fragile is making noise in the mangrove bushes on Leffis Key as John Ginaven walks by, followed by a binocular brigade.
Coming to a silent stop like troops on patrol, they wait, listening and watching.
Ginaven makes the same noise they've been hearing, called "pishing."
There it is again.
They whisper and point.
"Don't point," one whispers. "It scares them."
Cameras are raised. Binoculars are focused.
The bird moves and the jig is up. Whispering turns into excited chatter, as David Williamson flips open a bird identification book to narrow the choices.
Can you see its belly? Is it yellow? How many bands are on its flank? Are there white circles around the eyes?
Is it a male or a female?
"Are you kidding?" one new birder asks in disbelief, unaware that colors alone can give away the answer.
Some birds are easy to spot, flying overhead. Others are visible only with a high-powered scope. One night heron was spotted by its reflection in a pond. Many are not visible at all, hiding in the bushes at 8 a.m. on a downright cold Tuesday morning last week, when they were supposed to be out getting worms.
If they could positively identify a bird call, the volunteers of Manatee Audubon's Gulf Circle counted even the invisible ones during the annual Christmas Bird Count on Anna Maria Island.
The count attracted both newcomers and oldtimers. It was Lois Behan's second time out; the Bradenton resident took up birding when other activities became more difficult with age, she said, while fellow birder Carrie Smith has been tracking avians for about 40 years in Florida and Oklahoma.
"What a great day!" she said, despite having to bundle up like an Eskimo.
The count is fairly scientific for an amateur endeavor by citizen scientists. Reports of any unusual species for the region and the season must be verified before Audubon will accept them, said Williamson, the local coordinator of the annual expedition.
With so many birders involved – a record 32 this year – it's easier to spend enough time in an area to make two or three sweeps so as not to miss any of the flighty creatures, Williamson said.
There are rules: for example, if two of the same species of bird are spotted in the same area on subsequent sweeps, the assumption is it's the same bird.
And there are tricks. You can use recordings on an iPod or cell phone to make bird calls to draw the little rascals out of their hiding places.
There are also lessons.
It's never a favor to birds to feed them, Williamson said, adding that the landfill is, sadly, a great place to birdwatch because birds have become so dependent on people for food.
It's also bad form to allow children to chase birds on the beach, especially during nesting season, when parents can be scared off their nests permanently.
Other trivia tidbits were tossed about, too – there have been so many turkey vultures soaring above lately because they've been feeding on mullet, which have been running in recent weeks. Wood storks may bring babies in America, but a different type of stork brings babies in the United Kingdom. And the expression thin as a rail may actually have originated with a thin-legged bird known as the clapper rail.
The counts indicate which bird species are increasing and decreasing, and have shown that climate change is having an impact on birds, said Anna Maria Island businessman John van Zandt, who has traveled to Mexico and Costa Rica on bird expeditions and attended this year's count.
The 2009 Manatee Audubon Christmas Bird Count made history, hitting the 100 species mark for the first time, with 13 more species identified than the record-breaking 87 species identified in 2008, according to Williamson.
The first peregrine falcon ever seen in the count was identified near Leffis Key, he said, adding that another falcon lives in the Village on Longboat Key, but was not seen on count day.
In addition, a northern parula warbler was seen in the Village on Longboat Key, a common bird in fall and spring, but unusual this time of year.
On the down side, fewer birds were spotted overall – 3,146 in 2009 versus 8,904 in 2008 – and only 30 fish crows were seen, about 20 percent of normal, with no American robins or cedar waxwings spotted.
Observers aren't jumping to any dire conclusions, Williamson said, as the downturn could be caused by several factors.
The Audubon bird count began in 1900 as a kinder, gentler replacement for holiday bird hunting contests and is in its 110th year, covering North America from Alaska to Antarctica. The first local count was conducted in Palma Sola in 1906 and the two counts currently conducted on Anna Maria Island/Longboat Key/Cortez/Perico Island and in Bradenton date back to 1982.
Audubon data was used in the first U.S. State of the Birds Report, issued earlier this year by the Department of the Interior, and has documented the comeback of the previously endangered Bald Eagle as a result of conservation efforts.