Sarasota Bay Watch evolves
From the December 30, 2009 Issue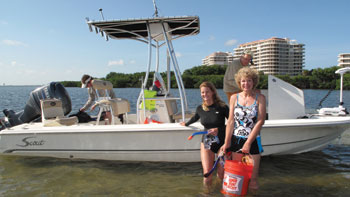 FILE PHOTO The Anna Maria Island Sun, the official T-shirt
sponsor, team of Mike Field, Cindy Lane, Charlie Hunsicker
and Dinah Frazier, of the Florida Dept. of Environmental
Protection, head for the water to search for scallops
during the 2009 Sarasota Bay Great Scallop Search
organized by Sarasota Bay Watch.
2009 was a pivotal year for Sarasota Bay Watch. During the last 12 months, the organization's identity has evolved through events, partnerships, a new e-commerce Web site, and a membership database. Sarasota Bay Watch also produced a brochure, window decal and a public service announcement, which is being broadcast through media outlets in Sarasota and Manatee counties.
Sarasota Bay Watch grew strong through the organizational efforts of its members, board of directors, and President John Ryan. Invaluable support came from a wide range of organizations, governments and businesses in Manatee and Sarasota counties. Sarasota Bay Watch's outreach and events were made possible with the financial assistance of member donations, Solutins to Avoid Red Tide the Duckwall Foundation and the Elizabeth Ordway Dunn Foundation. 2010 promises to be a challenging and exciting time for the organization as it begins a search for an executive director.
Sarasota Bay Watch needs the continued support of individuals and businesses, as well as local governments who understand the importance of a healthy bay eco-system to our quality of life as well as the local economy.
Help Sarasota Bay Watch in creating a lasting legacy of clean waters, a healthy environment and a strong business community. To learn more about Sarasota Bay Watch and become a member, visit the Web site at www.sarasotabaywatch.org. To add your voice and learn about projects to enhance the bay's waters, join Sarasota Bay Watch at Mote Marine Laboratory on Jan. 19 for the first stakeholders meeting. Here are a few of the events that Sarasota Bay Watch participated in, or organized in 2009:
• Feb. 7: Sarasota Bay Watch partnered with the town of Longboat Key, the Sarasota Bay National Estuary Program Bay Buddies, Florida Audubon and the Parrot Heads to clean up Sister Keys. The event was a huge success with over 40 participants collecting in excess of 2,000 pounds of trash. Participants met afterwards at the Mar Vista restaurant for a post event party sponsored by Ed Chiles and the Chiles Group.
• Feb. 26: Board members attended the Manatee Chapter of the Coastal Conservation Association and addressed the crowd of over 180 anglers and conservationists. Sarasota Bay Watch acknowledged the work of the association and the fact that it will be a valuable partner to SBW.
• Feb. 27: Tampa Bay Watch Executive Director Peter Clark hosted a gathering of local environmental groups, including Sarasota Bay Watch, and leaders to the Waves of Change Campaign at the organization's facilities on Cunningham Key. The five-year Waves of Change campaign is sponsored by the International Ocean Institute. The institute, headquartered in Malta, is developing a model program in the Tampa Bay area for communities across the nation and around the world.
• March 2: Rusty Chinnis was presented a proclamation from the town of Longboat Key encouraging the Governor, Manatee County and the Manatee County Legislative Delegation to work to protect Florida sea grasses.
• April 2: Harry's Continental Kitchens hosted Sarasota Bay Watch for a wine tasting benefit that raised over $1,300.00 to support our conservation efforts.
• April 14: Judy Williams of the Longboat Key Garden Club presented Sarasota Bay Watch President Rusty Chinnis and Eagle Scout Dan Ryan with a $1,000 grant check from the Garden Club. Ryan used the funds for an Eagle Scout project to build transects for the Second Annual Scallop Search sponsored by the group
• April 24 and 25, 2: Adam Fernandez and Rusty Chinnis attended the Sarasota Coastal Conservation Association's All Release Tournament captain's meeting and weigh-in and kicked off the Sarasota Bay Watch Trash Can Slam Award. They signed up seven new members and got 32 new contacts for the organization. Thanks to Mark Nichols, of DOA, for the custom box of DOA lures awarded the ladies, general and children's division winners. Each division picked up trash, making Sarasota Bay cleaner than they found it!
• May 2: Sarasota Bay Watch partnered with the Longboat Key Club Marina, Save Our Seabirds, Florida Audubon, the town of Longboat Key, and the Sarasota Bay National Estuary Program Bay Buddies to clean up the Quick Point Preserve. Over 60 participants collected trash on Quick Point before returning to the Key Club Marina for lunch and a presentation by Audubon, Save Our Seabirds, and Captain Jonnie Walker. Participants viewed a Bay Isles Rookery and had lunch pool-side at Portofino's courtesy of the Longboat Key Club.
Aug. 8: Our Second Annual Sarasota Bay Great Scallop Search returned to the Sarasota Outboard Club on City Island. The event featured 50 boats and over 170 volunteers. Participants enjoyed a day of fun on the water while benefiting scientists documenting the health and productivity of Sarasota Bay.
• Oct. 10: Sarasota Bay Members participated in a Hook Kids on Fishing Day with Mote Marine's Stock Enhancement Program, the Snook Foundation and Coastal Angler Magazine at Mote Aquiculture Park.
• Oct. 17: Sarasota Bay Watch partnered with Audubon, Save Our Seabirds, Sarasota County and the Bonefish Grill to clean up bird rookeries in Sarasota Bay.
• Nov. 18: Our first membership appreciation meeting at Freedom Boat Club was a great success, with members recounting the year's activities while sharing food and gifts courtesy of the boat club.
Sarasota Bay Watch would like to have you as a member. Join members in one of their 2010 events. For information on upcoming events, go to www.sarasotabaywatch.org