Dolphin Dash growth takes off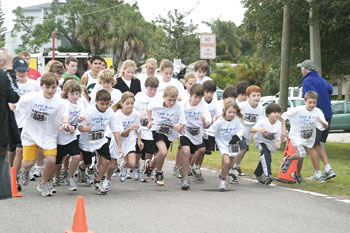 SUN PHTO/TOM VAUGHT Dolphin Dash The starting line for the
one-mile race was packed with kids, many of them students
of Anna Maria Elementary School, at the fourth annual
Dolphin Dash. A record 175 runners signed up either in
advance or the day of the race.
View more photos of the race
Race Results
They came early to get a good parking spot nearby and enjoy the brisk morning air last Saturday and they came in record numbers.
They were the runners who participated in the Fourth Annual Anna Maria Elementary School Dolphin Dash. This year, they had 175 runners compared to 108 last year. Several locals placed in the races including Sandy Maneley, of Holme Beach, as women's masters winner; Ellen Jones in her age group.
The Dolphin Dash consists of two races, a 5k and a one-mile, both through the streets of Holmes Beach with the assistance of the Bradenton Runners Club and the Holmes Beach Police Department.
Organizer Becky Walter, who is herself a runner, began this event as a way to expose students at the school to the running lifestyle. She also organized a running club at the school, and the students use the weekly before-school exercise as a way to train for the Dolphin Dash.
See results at http://runnergirl.com/races/dolphindash/results/20100116_dolphindash5k.html.