Fix your swing with Cathy Schmidt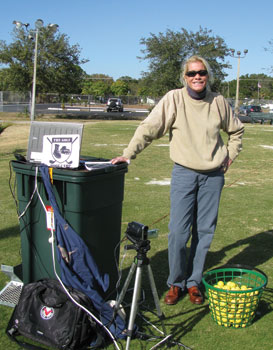 SUN PHOTO/LOUISE BOLGER
Cathy Schmidt teaches at Suncoast Golf Center.
During the years I've lived in Florida I've heard people say you can play golf or you can boat, but you can't do both. Turns out I was wrong, some people can do both, and Cathy Schmidt, a golf pro who runs The Golf Boot Camp, is one of them.
Cathy Schmidt says "I know your golf swing before I shake your hand," and this LPGA, Class A, GSEM teaching pro isn't kidding. After teaching golf to everyone from young children to senior citizens, professionals and amateurs since 1993, she can figure out pretty fast what she can do to help you develop and improve your golf game.
Growing up in a golfing family - her grandparents owned a golf course on the east coast of Florida - Schmidt was exposed to the game early on. During her first year of play she was a scratch golfer demonstrating a lot of natural ability. But the pull of the Pacific Ocean was stronger than her eventual love of golf. She lived in Hawaii, surfed and sailed for a while before returning to her original love. After four years as a tour professional on the Futures Tour, Schmidt co-founded the Golf Boot Camp first in Washington state and then in California. After relocating to the west coast of Florida with her daughter and settling on Anna Maria, she started her third Golf Boot Camp located at the Suncoast Golf Center in Sarasota.
Schmidt, who is a LPGA member in good standing, believes your golf swing is only as strong as your foundation and her teaching program is designed to build a strong foundation. She utilizes a video camera and laptop computer as a teaching aid. Using a split screen, her students can immediately see and better understand their weak and strong areas. The videos can be either e-mailed or a CD burned and given to students so they can review the lesson at home. And if your schedule won't permit you to get out to the golf course, Schmidt can set you up with the technology to have a mobile golf lesson at home or at your office for what she likes to call a "Lunch Time Fix." She's also been known to give advice via an I Phone instantly to students during a non-competitive game.
Schmidt points out that getting appropriately fitted for a set of golf clubs is essential to the game. She as well as the manager at the Suncoast Golf Center are both certified fitters. The nine hole executive course and driving range is open every day from 8 a.m. and is lit for night time use. Starting on March 29, Schmidt will be offering a five-day Spring Break Junior Golf Camp at the Suncoast Golf Center.
Schmidt still loves boating and gets out on the water as often as possible, but her first love will always be golf. Ask her to teach you the secrets to a good golf game, and while you are at it, ask her how she manages to do both.
Cathy Schmidt
The Golf Boot Camp
Suncoast Golf Center
7741 15th St. E., Sarasota
(Behind Sarasota/Bradenton Airport)
Golf Center: 941-351-2666 Cell: 941-720-9080
cathy.schmidt@lpgapro.com
Major credit cards accepted